Performing Arts Presents David Krakauer's Klezmer Madness
---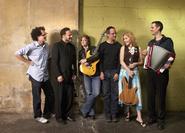 Hamilton College Performing Arts Contemporary Voices and Visions presents David Krakauer's Klezmer Madness! on Saturday, Nov. 6, at 8 p.m., in Wellin Hall, Schmabach Center for the Performing Arts.
One of the foremost musicians of the vital new wave of klezmer, David Krakauer is both a master of Eastern European Jewish klezmer music and a major voice in classical music. With Klezmer Madness!, Krakauer blends traditional klezmer with today's world music.
Klezmer music draws on centuries-old Jewish traditions while incorporating various sounds from European and international traditions, including Roma (gypsy) music, Eastern European folk music (particularly Russian), French Cafe music and early jazz. Klezmer (which means music in Yiddish) was brought to the U.S. during the great wave of Jewish immigration between 1880 and 1920, and is primarily known to us today through recordings made in New York beginning in the early 1920s by musicians who came to America during this time period.
In an essay about being a klezmer musician, Krakauer writes, "For me personally it is important to do two things in playing klezmer. One is to preserve the Jewishness – the inflection of the Yiddish language in the music (that I recognized in the speech inflections of my grandmother), the melodic shapes, the ornaments, the phrasing, the traditional repertoire, and the flavor of the cantor. But the second is to keep klezmer out of the museum -- to write new klezmer pieces and to improvise on older forms in a way that is informed by the world around me today."
Klezmer Madness! is comprised of David Krakauer, clarinet; Jerome Harris, guitar; Rob Curto, accordion; Nicki Parrott, bass; Michael Sarin, drums; and Keepalive, samples.
Tickets for this event are $20 for adults, $15 for senior citizens and $5 for students. Group tickets are available. For tickets or information call the box office at 859-4331 or visit www.hamiltonpa.org. Wellin Hall is also on Facebook at Wellin Hall/Schambach Center for Music and the Performing Arts.