Performing Arts Presents Eleanor Roosevelt Opera on Feb. 12
---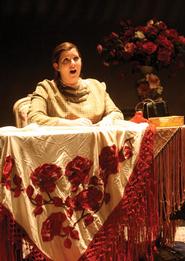 The Hamilton College Performing Arts Series presents the fully staged opera Eleanor Roosevelt on Sunday, Feb. 12, at 3 p.m., in Wellin Hall. Produced by Syracuse's Society for New Music, Eleanor Roosevelt is composed by Buffalo resident Persis Parshall Vehar and based on the play Eleanor: Her Secret Journey, by former Cazenovia writer Rhoda Lerman with Ithaca librettist Gabrielle Vehar.

The opera begins with Roosevelt, then a widow, receiving a call from President Truman offering her a post as American delegate to the United Nations Commission on Human Rights. As its chair, Roosevelt pushed for the Universal Declaration of Human Rights, which was adopted in 1948.
During her lifetime, Roosevelt fought for women's rights on several fronts, including voting, working conditions and access to health care. She also was involved in politics and became chair of the Democratic National Committee.
While the opera revolves around Eleanor Roosevelt, it also touches on her relationships with her unfaithful husband, Franklin D. Roosevelt, the 32nd president of the United States, and her overbearing mother-in-law. Her uncle Teddy Roosevelt, who was the 26th U.S. president, also plays a role.

The performance features soprano Bridget Moriarty as Eleanor Roosevelt and Steven Stull, baritone, as FDR. The orchestra is conducted by Heather Buchman.

Tickets for this event are $15 for adults, $10 for senior citizens and Hamilton Community, and $5 for students. For tickets or information call the box office at 859-4331 or visit www.hamiltonpa.org.