Performing Arts Presents Lar Lubovitch Dance Company
---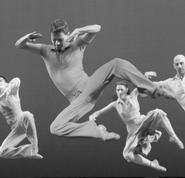 Hamilton College Performing Arts will present the Lar Lubovitch Dance Company on Friday, Feb. 11, at 8 p.m., in Wellin Hall as the result of a grant from Mid Atlantic Arts Foundation through their American Masterpieces program.
American Muse|American Moves celebrates premier American dance companies and repertoire by choreographic masters set to quintessentially American music – from the Broadway musical and jazz and blues standards, to iconic minimalism and traditional spirituals.

The Lar Lubovitch Dance Company is renowned for its musicality, rhapsodic style and gorgeous dancing. Lubovitch has choreographed more than 100 dances for his New York-based company, which has performed across the United States as well as in more than 30 foreign countries. The company has appeared on national television as part of the PBS "Great Performances" series and has been featured on the BBC.

The Hamilton College performance will include Coltrane's "Favorite Things," set to John Coltrane's famous interpretations of the Richard Rodgers classic "My Favorite Things" and the recently remounted signature work, "North Star" set to music by Philip Glass.

This performance is a project of the the Mohawk Valley Dance Partnership (MVDP) which was established in 1995 to broaden dance activity in Central New York. MVDP combines the talents and resources of three community partners: Munson-Williams-Proctor Arts Institute, Hamilton College, and the Stanley Center for the Arts, Arts in Education Institute.
The partnership's goals are to bring dance artists into the area for multi-day visits with activity closely planned between the dance company and the community; to advance a broad spectrum of the community's understanding and appreciation of dance through a wide range of residency activity and performances; to encourage close and perhaps sustaining ties between the community and the dance company; and to create long-lasting community partnerships through development of joint dance projects that capitalize on each organization's strengths, together achieving more than individually possible.

This event is also made possible, in part, by the New York State DanceForce, a state-wide consortium of choreographers, arts organizations, presenters and educators. Administered by the American Dance Asylum, Inc., DanceForce programs include artist residencies, community outreach activities and other dance programming that link artists and communities across New York State. The New York State DanceForce receives major sponsorship from the New York State Council on the Arts Dance Program, Altria Group Inc., and the National Endowment for the Arts.

Tickets for this event are $20 for adults, $15 for senior citizens, and $5 for students. Discounts are also available for Munson-Williams-Proctor members. For more information or to order tickets call the box office at 859-4331 or visit www.hamiltonpa.org.