Rochester Philharmonic Orchestra to Perform
---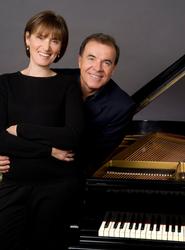 The Hamilton College Performing Arts Series will present the Rochester Philharmonic Orchestra on Friday, Oct. 28, at 7 p.m., at Wellin Hall in the Schambach Center for Music and the Performing Arts.
The program, conducted by Michael Butterman, will include Mozart's Symphony No. 31, Saint-Saens' Organ Symphony and Poulenc's Double Piano Concerto, with Misha and Cipa Dichter.

Michael Butterman is making his mark as a model for today's conductors and is recognized for his commitment to creative artistry, innovative programming, and audience and community engagement. Now in his 12th season as the RPO's principal conductor for education and outreach—the first position of its kind in the United States—Butterman is also music director for both the Boulder Philharmonic and the Shreveport Symphony Orchestras.
Critically acclaimed pianists Misha and Cipa Dichter met as students at The Juilliard School and have been performing together since their first joint appearance at the Hollywood Bowl in 1972, four years after their marriage. Since then, the Dichters have performed in recital and with major orchestras throughout the world and have brought to the concert stage many previously neglected works of the two-piano and piano-four-hand repertoires. They include the world premieres of Robert Starer's Concerto for Two Pianos, the first movement of Shostakovich's two-piano version of Symphony No. 13 (Babi Yar), and Mendelssohn's own four-hand setting of his "Seven Songs Without Words, Op. 62 and Op. 67," commemorating the composer's 200th birthday.

Since its founding by George Eastman in 1922, the Rochester Philharmonic Orchestra has been committed to enriching and inspiring our community through the art of music. For more than 80 years, the RPO has been known for its high standard of artistic excellence, unique tradition of musical versatility and deep commitment to education and community engagement.

Tickets for the Rochester Philharmonic Orchestra are $20 for adults, $15 for senior citizens, and $5 for students. Tickets are available by calling the box office at 859-4331 or at www.hamiltonpa.org.