SFJAZZ Collective to Perform Music of Stevie Wonder
---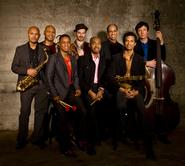 The Hamilton College Performing Arts continues its 2011 series with the SFJAZZ Collective performing the music of Stevie Wonder on Friday, Oct. 7, at 8 p.m., in Wellin Hall. Immediately before the concert, Professor of Music "Doc" Woods will present a pre-concert talk in Café Opus on the topics of Wonder's music and arranging for modern jazz.
The SFJAZZ Collective is an all-star jazz ensemble comprising eight of the finest performer/composers at work in jazz today. This year's members are Miguel Zenón, alto saxophone and flute; Mark Turner, tenor saxophone; Avishai Cohen, trumpet; Robin Eubanks, trombone, Stefon Harris, vibraphone and marimba; Edward Simon, piano; Matt Penman, bass; and Eric Harland, drums.
The SFJ AZZ Collective takes on the material of pop music icon Stevie Wonder for its 2011 tour. The group approaches the work of Wonder, an artist outside of the jazz tradition, but one whose sophisticated songcraft and timeless melodies are more than worthy of exploration. Past tours have concentrated on the music of John Coltrane, Thelonious Monk and Herbie Hancock.
The eight-member Collective will perform its own arrangements drawn from Wonder's prodigious body of work. Among the songs they'll rework is "Superstition," "Sir Duke," "My Cherie Amour," "Do I Do" and others. Band member Avisahai Cohen said each musician in the group took a crack at arranging a Wonder song, which works as a kind of collaboration toward a finished product that may bear little resemblance to the original. "You can stay true to the original in your arrangements," said Cohen, "or you can go pretty far afield. We have a very wide description of what we can with these songs."

Tickets for the performance of SFJAZZ Collective are $15 for adults/$10 for senior citizens and $5 for students. For tickets or information call the box office at 859-4331 or visit www.hamiltonpa.org.