Performing Arts Presents Trio Hochelaga on Feb. 18
---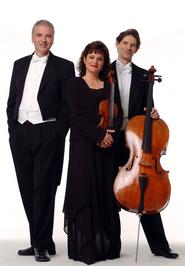 The Hamilton College Performing Arts Series presents Trio Hochelaga on Saturday, Feb. 18, at 8 p.m., in Wellin Hall.
Bearing Montreal's original Iroquois name, the Trio Hochelaga consists of violinist Anne Robert, cellist Paul Marleyn, and pianist Stéphane Lemelin. The group was founded in 2000 and has rapidly distinguished itself on the Canadian musical scene as one of the country's most important musical ensembles.
The Hamilton College program will feature music for piano trio including Sergei Rachmaninoff's Elegiac Trio No 1 in G-minor, Ludwig van Beethoven's Trio in D-major, Ghosts, and Franz Schubert's Trio in B-flat major.
Acclaimed by The Strand Magazine of London for "a deeply sensitive playing, sweetness of sound, dexterity and elegant phrasing," Anne Robert plays regularly as a chamber musician. A former first violin with the Montreal Symphony Orchestra, Robert regularly gives master classes and frequently serves on juries, notably for the Montreal International Music Competition and the Tibor Varga (Switzerland) International Music Competition.
Canadian cellist Paul Marleyn has appeared as a soloist and recitalist throughout Europe, Asia and North America, most notably at Londo's Wigmore Hall, Boston's Jordan Hall, and Chicago's Cultural Centre. In 1994 he was elected an associate of the Royal Academy of Music, and in 2003 received a prestigious Career Development Grant from the Canada Council.
"A subtle and elegant pianist" (Répertoire, France) whose tone is "rich, full and deep" (Le Devoir, Canada), Stéphane Lemelin regularly performs as a soloist and chamber musician in Canada, the United States, Europe and Asia. A prize-winner of the Robert Casadesus International Competition in Cleveland, Lemelin has received many national and international awards and grants, notably from the Canada Council for the Arts, the Social Sciences and Humanities Council of Canada, and the Arts Foundations of Alberta and Austria.
Tickets for this event are $15 for adults, $10 for senior citizens and $5 for students. For tickets or more information call the box office at 859-4331 or visit www.hamitonpa.org.