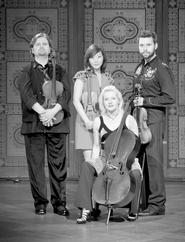 The Hamilton College Performing Arts Series concludes the spring series with ETHEL string quartet on Sunday, April 15, at 3 p.m., in Wellin Hall.
Acclaimed as America's premier postclassical string quartet, ETHEL is comprised of Juilliard-trained performers Cornelius Dufallo (violin), Ralph Farris (viola), Dorothy Lawson (cello) and Jennifer Choi (violin). ETHEL performs adventurous music of the past four decades, with emphasis on works composed since 1995.
Boldly exploring new synergies between tradition and technology, ETHEL initiates innovative collaborations with an extraordinary community of American and international artists such as Joe Jackson, Kurt Elling, Bang on a Can, Todd Rundgren, David Byrne and other innovative musicians.
For this Hamilton College engagement, ETHEL presents a program titled "Present Beauty" which celebrates the concepts of presence and continuity. Featured on the program is their own new string quartet arrangement of Philip Glass' score from The Hours. Also on the program are compositions by Terry Riley, Huang Ruo, David Lang and Julia Wolfe.

Tickets for this event are $15 for adults, $10 for senior citizens and $5 for students. For tickets or more information, call the box office at 859-4331 or visit www.hamiltonpa.org.