Performing Arts Series Opens with Puppeteer Basil Twist on Sept. 13 and 14
---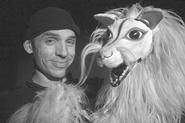 Hamilton College Performing Arts opens its 25th anniversary season with Obie Award-winning puppeteer Basil Twist's Dogugaeshi on Friday and Saturday, Sept. 13 and 14, at 7:30 p.m., in Wellin Hall, Schambach Center for Music and the Performing Arts.
Twist fuses ancient Japanese puppetry traditions with video projection, plus live accompaniment on shamisen by Japanese master musician Yumiko Tanaka. In Dogugaeshi, a swirling whirlpool leads into a mystical world where a white fox, the piece's sole figurative puppet, guides viewers through a forest of ever-unfolding, infinitely intricate images of ancient and modern Japan. Inspired by the centuries-old stage mechanism once commonly used in Japanese puppet theater (dogugaeshi), this production features nearly 100 handcrafted painted screens that slide, swivel, bend and bounce, drawing audiences into a mesmerizing landscape.
Dogugaeshi features four puppeteers, including Basil Twist, and a live performance by master shamisen player and experimental musician Yumiko Tanaka, whose multilayered music collage embraces everything from traditional tunes to popular songs.
For the upcoming engagement, the 650-seat Wellin Hall will be transformed into an intimate 100-seat black box theater, with set and chairs on stage. This performance is suitable for audiences ages 10 and up. Due to limited seating, reservations are strongly encouraged. Please call in advance for handicap accessible seating arrangements. Tickets are $15 for adults, $10 for senior citizens and $5 for students. For reservations call the box office at 859-4331 or visit www.hamiltonpa.org.