Performing Arts Series Presents the Brentano String Quartet on Oct. 5
---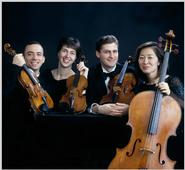 Hamilton College Performing Arts continues 25th anniversary season of the Schambach Center for Music and the Performing Arts with the Brentano String Quartet on Saturday, Oct. 5, at 7:30 p.m., in Wellin Hall, Schambach Center for Music and the Performing Arts.
Since its inception in 1992, the Brentano String Quartet has appeared throughout the world to popular and critical acclaim. In 1999 the quartet became the first resident string quartet at Princeton University, a position they still hold today. The Brentano String Quartet is Mark Steinberg, violin; Serena Canin, violin; Misha Amory, viola; and Nina Lee, cello.
In 2012, the Brentano String Quartet provided the central music (Beethoven, Opus 131) for the critically-acclaimed independent film A Late Quartet. The feature film, directed by Yaron Silberman and starring Philip Seymour Hoffman, Catherine Keener, Christopher Walken and Mark Ivanir, was screened in major cities throughout North America, including Toronto, New York, Boston, Chicago, San Francisco, and Washington D.C.
The Hamilton College program will feature Mozart's String Quartet in D major, KV 575, Beethoven's String Quartet in F minor, Op. 95, and Debussy's String Quartet in G minor, Op. 10.
Tickets for this event are $15 for adults, $10 for senior citizens and $5 for students. All seating is general admission. For tickets or more information, call the box office at 859-4331 or visit www.hamiltonpa.org.