Lakota Sioux Dance Theater Performance on Nov. 13
---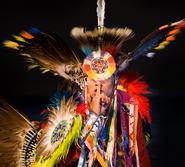 Hamilton College Performing Arts Contemporary Voices and Vision Series celebrates Native American Heritage Month with the Lakota Sioux Dance Theater on Saturday, Nov. 13, at 8 p.m., in Wellin Hall, Schambach Center. The company will present Cokata Upo! Come to the Center, a three-part evening length work that celebrates the culture of the Lakota people through narratives, creation stories and traditional and sacred songs and dances.
For more than 30 years, the Lakota Sioux Dance Theatre has continued to communicate the powerful resonance of dance in Plains Indian Society, as well as the importance of songs as living history and oral tradition.
Founded in 1978 on the Rosebud Reservation, South Dakota, the Lakota Sioux Dance Theatre began with the support of traditional Lakota Indian educators, healers, community leaders, championship powwow dancers, singers and storytellers. The company includes some of the most highly acclaimed performers of the Sioux Nation and is under the direction of noted choreographer Henry Smith.
The company has appeared at the Kennedy Center in the opening celebration of the National Museum of the American Indian, The Millennium Celebration Times Square 2000, at universities and community theatres, as well as in reservation settings throughout the U.S.
Tickets for this event are $18 for adults, $12 for senior citizens and $5 for students. The performance is suitable for all ages. For tickets or more information call the box office at 859-4331.