Peter Maher '13 Rome Police Research Featured in Local Media
---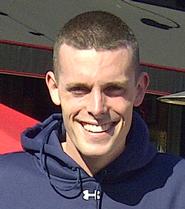 Peter Maher '13 was featured on local television station YNN on Aug. 28 related to his research on the Rome, N.Y., police department. Maher, who served as an intern with the Rome Police department for two years, conducted a study on how policing is done in that city. It resulted in his recommendation that Rome form a Community Impact Unit (CIU), a group of four officers who will patrol by foot, by bicycle and only when necessary by car.
Police Officers patrolling through these means will not merely be responding to criminal incidents, but rather engaging Rome's citizens on an informal basis to strategically learn of and address recurrent crime issues in the city. The CIU will begin work on Sept. 4.

Maher said the strategy behind the CIU is to identify and address problems before they produce persistent crime.
Maher and the CIU were also featured in the Rome Observer.