Pfander paces men's cross country at Rensselaer
---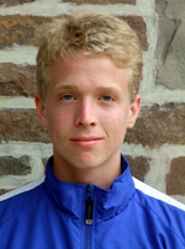 Hamilton College placed eighth of 15 teams at Rensselaer's 2013 Saratoga Invitational, which was held at Saratoga Spa State Park on Sept. 20.

COMPLETE RESULTS

Adam Pfander '16 was the Continentals' top finisher, placing fifth in the 170-runner field. Pfander's time of 26 minutes, 6.6 seconds is his best at Hamilton and was just 13 seconds behind the race winner.

Evan Abelson '16 and Jack Moses '16 placed 54th and 55th, respectively, with times of 27:45.9 and 27:47.1. Harrison Sullivan '16 finished 66th in 28:07.0 and William Robertson '14 rounded out Hamilton's top five in 69th place with a time of 28:15.5.

The Continentals compete at the SUNY Geneseo Invitational – the site of the NCAA regional meet – on Saturday, Oct. 5.