Piesche Gives Paper at German Studies Association
---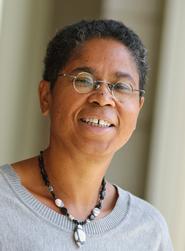 Peggy Piesche, visiting instructor in German and Russian presented a paper on cosmopolitanism and education in German Enlightenment at the German Studies Association convention, held in Oakland, Calif., on Oct.7-10. The paper, "The Making of the Cosmopolitan: Education as 'Elitenbildung' in Christoph Martin Wieland's Late Novels," discussed the interactive dynamics between the concepts of cosmopolitanism and education at the end of the 18th century and especially in Wieland's oeuvre, which shows his fascinating contributions to contemporary political, philosophical and psychological debates with regard to education.
Piesche also gave commentary on the conference panel "Race, Authenticity, and the Construction of German and European Spaces."
Piesche's paper shows the importance of the concepts of cosmopolitanism and education as a source of meaning and the object of discursive battles during the epistemological turmoil provoked by the structural changes and the socio-political earthquake of the French Revolution and offers explanations for the relevance of these concepts for today. Reflecting his view on civilizational dimensions of a society it is therefore not surprising that Wieland's take on cosmopolitan identity concepts recently reinvigorated debates on this topic.