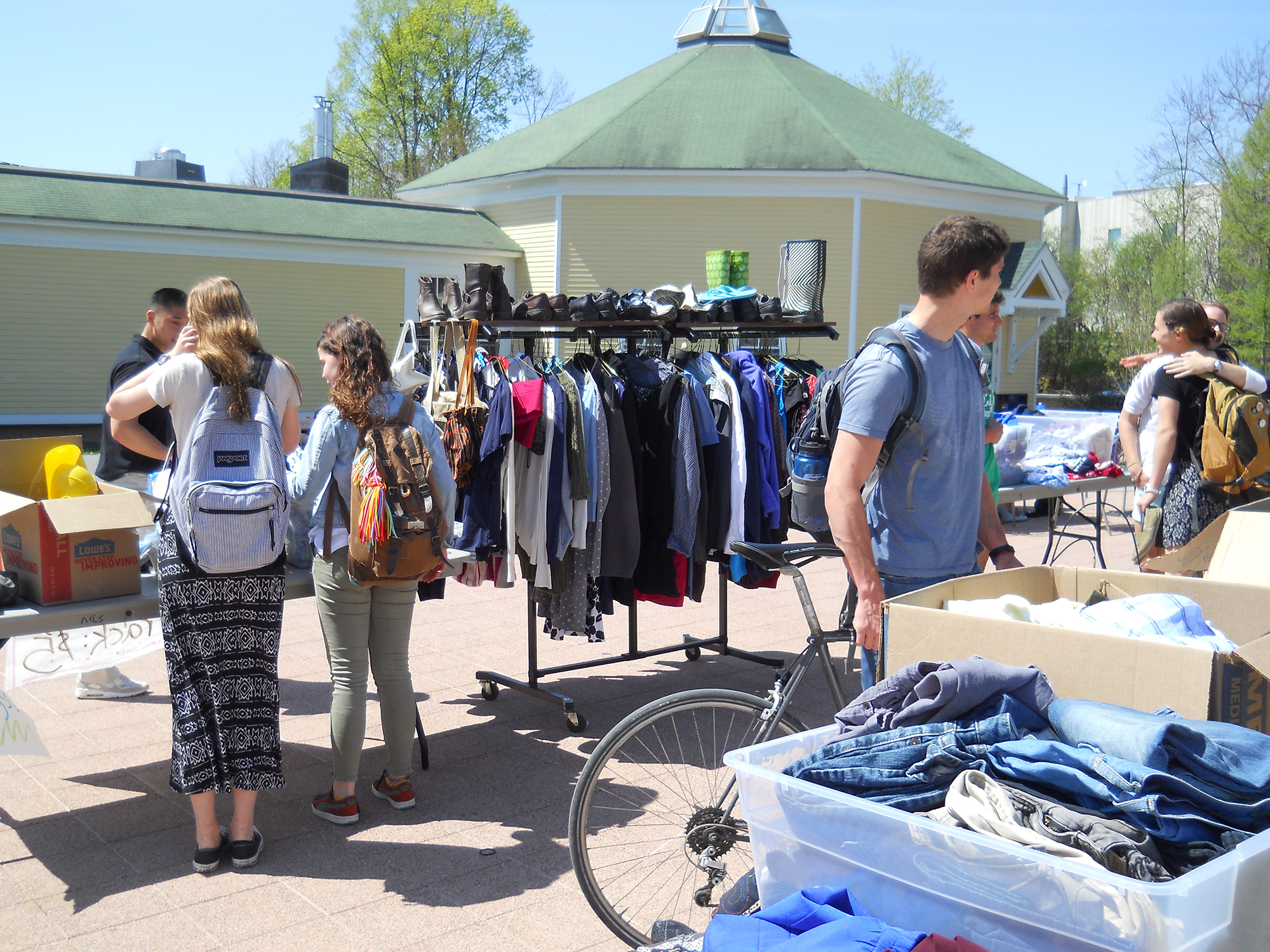 Three sophomores inspired by Hamilton's annual Cram & Scram reused goods sale have taken clothing shopping on campus to a new level with their pop-up Thrift Shop, open today outside Sadove Student Center. Mary Langworthy, Audrey Love and Sara Purinton are operating a recycled clothing shop with items donated and now purchased by students, faculty and staff. In just three hours the trio has taken in more than $300 which will be turned over to benefit the Nepal relief efforts through an organization that their classmate Nepal native Sharif Shrestha started.
"We think that buying used items is a cost effective and environmentally friendly way to get what we need, and we're excited that our peers seemed to feel the same way," Langworthy explained. "Hamilton's enthusiasm for Cram & Scram made us think that this attitude could extend to buying used clothing, and the idea for the Hamilton Thrift Store was born."
The students have been planning for this sale throughout the semester. The clothes were donated by members of the Hamilton community, and for each bag donated, donors received a $5 credit toward a purchase at the sale. "It's been busy all day; we're very excited," Langworthy said.
Love said the Thrift Shop accepted donations for the sale last week and took in a lot of sweaters, tees, tanks and shorts. "It's exciting," she remarked. "We initially thought we'd have to go buy clothing to sell but we got enough donations."
The students said that if they received enough support for the pop-up shop they'd like to explore the possibility of establishing a permanent place on campus. "We did this to gauge interest," Love said. "We have no overhead, we have the space and time and we didn't have to market the shop. Everyone just walks by and stops over," she observed. "I'd say we're off to a successful start."
"Overall, we think that this is both a practical and a fun endeavor, and that Hamilton students can benefit both as consumers and as socially and environmentally conscious citizens by shopping at our thrift store," Langworthy added.
The Thrift Shop will be open outside Sadove Student Center today until 5 p.m.