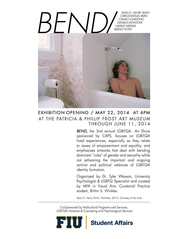 Photos by Sean Henry-Smith'15, a studio art concentrator, will be part of a group exhibition at Florida International University's (FIU) Patricia & Phillip Frost Art Museum, opening on Thursday, May 22. Students and alumni in Miami are invited to visit the exhibition.
The exhibit Bend focuses on lesbian, gay, bi-sexual, transgender, questioning and ally (or LGBTQA) lived experiences, especially as they relate to issues of empowerment and equality. The exhibition also emphasizes artworks that deal with bending dominant "rules" of gender and sexuality, while not jettisoning the important and ongoing activist and political valences of LGBTQA identity formation.
Bend features the work of six artists. Smith's portrait photographs examine and discredit the artifice of "man" generated by societal norms and media, while embracing and examining varied expressions of masculinity.
The FIU Patricia & Phillip Frost Art Museum is at 10975 SW 17th Street, Miami, Fla. Free and open to the public.