Posse Foundation Honors Stewart
---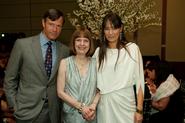 The Posse Foundation honored Hamilton President Joan Hinde Stewart as a 2011 Posse Star at the foundation's anniversary gala on May 25 in New York City. Posse is a national non-profit that identifies public high school students with extraordinary academic and leadership potential who may be overlooked by traditional college selection processes. Hamilton and the Posse Foundation celebrated a 10-year partnership this year.
Posse gives the Star award annually to individuals who exhibit leadership, make significant contributions in the field of education and positively affect people's lives.

"This year we celebrate Hamilton College's 10th anniversary as a Posse partner. President Stewart and her exceptional team have made this an incredibly effective collaboration—one that is transforming the lives of so many students," said Posse founder and president Deborah Bial. "As a first-generation college student, Joan is deeply committed to expanding educational opportunities for students with promise. She is a champion of college access and diversity at Hamilton, evidenced by her focus on increasing the College's financial aid budget, reallocating merit-scholarships to need-based aid and adopting a need-blind admission policy. This award is well deserved," Bial remarked.

Four Posse Stars, including Stewart, were recognized during the Posse Foundation Gala, which was emceed by "60 Minutes" correspondent Lesley Stahl. The other honorees were Stephanie and Arthur Blank of The Arthur M. Blank Family Foundation; Jeyson Florez, a DePauw Posse 3 (Chicago) alumnus and consultant for Federal Strategy & Operations, Deloitte Consulting LLP; and Putnam Investments.

Hamilton began its partnership with Posse in 2001 when the college enrolled its first posse of students from the Boston area. The college expanded its partnership with the Posse Foundation last fall when it enrolled 10 students from Miami in the class of 2014.

Posse students are chosen based on their leadership ability, social status among peers, demonstrated ambition, ability to work with people of different backgrounds and desire to succeed. Posse recruits and trains student leaders from public high schools and sends them in multicultural teams -- or posses -- to top colleges and universities. Posse students are supported by scholarships, mentors and their peers as they navigate their way through college.

Posse program partners include 39 top-tier colleges and universities, including Middlebury, Oberlin, the University of Pennsylvania and Carleton College. Since its founding in 1989, more than $407 million in leadership scholarships have been awarded by Posse partner colleges to 3,638 Posse students. The program has a 90 percent graduation rate. Miami is Posse's newest program site, joining sites in Atlanta, Boston, Chicago, Los Angeles, New York and Washington, D.C.