Pragyan Pradhan '08 is Named Hamilton's Eleventh GOLD Scholar
---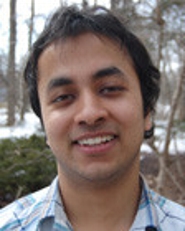 Hometown: Kathmandu, Nepal
High School: Budhanilkantha School
Majors: Economics and Mathematics
Last movie seen in theaters: Atonement
Favorite Music: Classic Rock a la AC/DC, Led Zeppelin, Dire Straits, Pink Floyd
Last Book: Fooled by Randomness by Nassim Nicholas Taleb
Hobbies: Table tennis, soccer, basketball, squash, badminton, swimming, playing guitar and piano, computer games
Thanks to the generous support of its young alumni, Hamilton College is pleased to name Pragyan Pradhan '08, of Kathmandu, Nepal, as its 11th GOLD Scholar.
Being one of the top students in his high school, Pragyan received acceptances from some of the best schools in Nepal, but he wanted a superior international education. After reading about the College on the Hill in U.S. News and World Report, he spoke with two students from his high school who were attending Hamilton, and was intrigued by what they described. The opportunities for student-faculty research, exceptionally small class sizes and a closely-knit community created the perfect match for him.
When he came to the United States in 2004, Pragyan kept an open mind in the face of a foreign culture. He knew life was going to be different in the States and endeavored to be accepting of everything he observed. He quickly assimilated American customs and learned to make new friends. The pre-orientation Adirondack Adventure (AA) program proved to be of tremendous help in his initial learning process.
"AA was the highlight of my orientation to Hamilton," Pragyan says. "In those first few days with new people, Adirondack Adventure helped take away any uneasiness and increase my comfort level." In the tradition of alumni leadership, Paxton Ramsdell '07 and Erica Ball '04 led Pragyan's group through the Adirondacks for a week of camping, hiking and canoeing. Pragyan's frequent hikes during his school days in Nepal prepared him well for the Adirondack experience.
Although AA made him feel comfortable on the Hill, it was Amy James, then international student coordinator, who helped make Pragyan's orientation unforgettable. Amy and her family opened their doors to Pragyan and welcomed him into their house for meals during holidays. "Regardless of how tight her schedule was, she could always find time for me. Amy is a trusted advisor and friend who made me feel at home during my four years at Hamilton."
In the classroom Pragyan proved to be an exemplary student. His natural talent for mathematics and science put him on a fast track for engineering. The breadth of the liberal arts education allowed him to continue studying science while gradually shifting his focus to a newfound passion — business. Completing his majors in economics and math with honors, he excelled academically and, more importantly, had fun doing it! He particularly enjoyed the Senior Seminar in Statistics taught by Professor Tim Kelly, Pragyan's advisor. "Not only was the class fun, it was also one of the most useful courses I have taken at Hamilton," he says.
Applying lessons to real life is integral to the Hamilton experience. Pragyan is actively involved in the community through both campus organizations and jobs. He has done just about everything imaginable — resident advisor, orientation leader, switchboard operator, Admission Office assistant, language lab assistant, Hindi instructor and tutor/grader for physics, chemistry, math and economics. In his "spare time", he is a board member of the Asian Cultural Society and has earned a reputation as the Hill's "table tennis guru." He also enjoys squash, badminton, basketball and playing guitar and piano.
"What I value most about Hamilton is not what I studied in class but the people I met along the way. I wanted a home away from home and a place where I felt comfortable. The faculty never failed to deliver whenever I had a question about school, or anything else. They are more like friends or family to me than teachers. Community members made a special effort to make me feel welcome whether I am in Commons, at the diner or in some administrative office, and that made all the difference," he says. "The intellectual stimulation that I got while talking to people from the globe while sitting in one single room made me feel like I was a UN delegate. I could have never learned about Lebanon, Vietnam, Tanzania, Serbia, China and Jamaica at the same time, had it not been for Hamilton."
An active member of the HALT (Hamilton Alumni Leadership Training) program, Pragyan hopes to continue to make a difference in the lives of students after he graduates. He is interested in a career in management consulting and is considering M.B.A. and Ph.D. programs.
GOLD Scholars is an initiative supported by the Annual Fund, which has always provided direct support for the College's most important current priorities, especially scholarship aid. Starting this year, gifts from the GOLD Group – Graduates of the Last Decade – will specifically support students on campus. With each $15,000 increment collectively contributed, the College will select a student as a GOLD Scholar for 2007-08.
Make your Annual Fund gift in support of GOLD Scholars.