Pre-Orientation Programs Welcome Class of 2015
---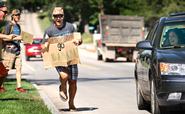 Adirondack Adventure (AA), Hamilton's eight-day outdoor program for incoming students, and its sister program Outreach Adventure (OA), will welcome members of the class of 2015 on Friday, Aug. 12, for pre-orientation.
AA, now 27-years-old, is a pre-orientation program featuring 26 trips that focus on hiking, canoeing, rock climbing or kayaking at beginning, intermediate or advanced ability levels. All trips are conducted in various locations in the Adirondacks.
OA offers a parallel option to Adirondack Adventure for those students who are not interested in outdoor trips, but would like to participate in a pre-orientation group. Students in these groups will volunteer at six non-profit agencies in the nearby cities of Utica and Rome and "camp" indoors at a downtown Utica site.
After arriving on Aug. 12, students in both groups will spend the next day on campus preparing for their trips before departing on Sunday. They'll spend two-and-a-half days volunteering or exploring the Adirondacks, then the two groups will join up for a high ropes course and night at the Outdoor Education Center on Aug. 18. Everyone returns to campus on Aug. 19 to join other members of the class of 2015 for Orientation, which begins on Aug. 20.