Hansmann Lecture to Address Sacred History in Early Modern Europe
---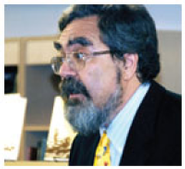 Anthony Grafton, Henry Putnam University Professor of History at Princeton University, will present the Doris M. and Ralph E. Hansmann Lecture on Thursday, Nov. 11, at 4:10 p.m., in the Science Center's Kennedy Auditorium. The lecture, titled "The Fall and Rise of Sacred History in Early Modern Europe" is free and open to the public.

Grafton received his A.B. (1972) and Ph.D. (1975) in history from the University of Chicago, and spent a year at University College London, where he studied with historian Arnaldo Momigliano. His main areas of study include the cultural history of Renaissance Europe, the history of science from Antiquity to the Renaissance, and the history of scholarship and education in the West from Antiquity to the 19th century.

He is the author of 10 books, and has written two collections of essays, Defenders of the Text (1991), and Bring Out Your Dead (2001). Grafton has received the Guggenheim Fellowship (1989), the Balzan Prize for History of Humanities (2002), and the Mellon Foundation's Distinguished Achievement Award (2003). Currently, he is studying the science of chronology in Europe starting from the first half of 17th century Europe.