Program in Washington Students Meet with Chief Justice John G. Roberts Jr.
---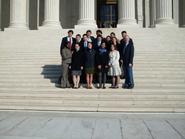 One of the goals of Hamilton's Program in Washington is to connect classroom learning with the direct experience of politics and decision-making in the nation's capital. On February 25, participants in the program had an extraordinary opportunity to do just that at the Supreme Court of the United States.
Students attended oral argument in Flores-Figuerora v. United States, a case about whether an individual who uses a false means of identification without knowing it belongs to another person can be convicted of "aggravated identity theft" under 18 U.S.C. 1028A(a)(1).
Later, students had a private meeting with Chief Justice John G. Roberts Jr., where they discussed matters ranging from the role of the judiciary in a democracy to the functions of oral argument to advice about careers. To follow news of politics and the DC program, visit the program's blog at
http://potomafever.blogspot.com/
Related Information
Program in Washington