Beyond Books, DC Program Students Enjoy Many Opportunities
---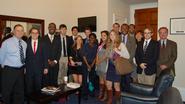 Students in the Semester in Washington Program met with U.S. Representative Richard Hanna of New York's 24th District on Oct. 12. Rep. Hanna fielded a variety of questions from the group about his experiences as a new member of the House of Representatives and about the issues confronting the 112th Congress.
Each semester, the Government Department brings second semester sophomores, juniors and seniors from various majors to Washington for a rigorous program of academic seminars, independent research and internships. This semester's faculty director is Professor of Government Theodore Eismeier.

The Hamilton network helps provide a rich co-curricular program. This semester's program has included a session on lobbying with George Baker '74 and Frank Vlossak '89 of Williams and Jensen; a meeting on presidential communication with Michael McCurry P '13 of Public Strategies Washington; and a discussion on strategies of management with Howard Steinman '93 of PWC/PRTM Management Consulting.

The 15 DC Program students have also heard about campaign finance from Marc Elias '90 of Perkins Coie; attended a White House arrival ceremony and a tour of East Wing arranged by Sara Feuerstein '07; and heard oral arguments at the Supreme Court of the United States. They've attended briefings at the Antitrust Division of the Department of Justice organized by Edward Ajaeb '11, at the State Department through Ketura Brown '04, and at the World Bank arranged by Hasan Tuluy P '08. DC students also enjoyed a meeting on journalism with Niels Lesniewski '07 of Congressional Quarterly and Lachlan Markay '09 of the Heritage Foundation.
Students are also taking advantage of Washington's cultural activities, including the Newseum, the National Gallery of Art, the Martin Luther King Memorial, the Washington Nationals and DC United.

Students in the Washington Program record their observations on politics and life in Washington on their blog, Potomac Fever.