President Stewart Elected CICU Secretary
---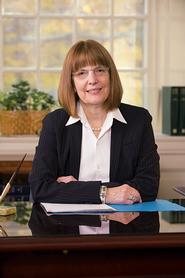 Hamilton President Joan Hinde Stewart was elected secretary of the Commission on Independent College and Universities (CICU) executive committee at CICU's board of trustees meeting on April 21.

CICU represents the chief executives of New York's 100+ independent (private, not-for-profit) colleges and universities on issues of public policy. Its board of trustees represents executive-level participation from colleges and universities in every region of New York State and highlights the diversity of institution type and size within New York State's Independent Sector of higher education.

Member colleges comprise the largest private sector of higher education in the world and confer most of the bachelor's degrees (54 percent), master's degrees (73 percent), and doctoral and first-professional degrees (79 percent) earned in New York State.
CICU member campuses enroll more than 486,000 students, including 300,000 New York State residents.