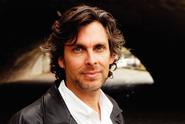 Michael Chabon, Pulitzer Prize-winning novelist and author of The Amazing Adventures of Kavalier & Clay, will speak at Hamilton as part of the Tolles Lecture series on Wednesday, April 1, at 8 p.m., in the Chapel. The lecture, "An Evening With Michael Chabon," is free and open to the public. It will be followed by a book-signing and reception in Dwight Lounge, Bristol Campus Center.
Chabon's first novel, The Mysteries of Pittsburgh (1988), was originally written for his master's thesis at U.C. Irvine and became a New York Times best-seller. His second novel, Wonder Boys (1995), was also a best-seller, and was made into a critically-acclaimed film featuring actors Michael Douglas and Tobey Maguire.
Random House published Chabon's third novel, The Amazing Adventures of Kavalier & Clay, in September 2000. The novel follows the lives of two Jewish cousins before, during and after World War II. They are a Czech artist named Joe Kavalier and a Brooklyn-born writer named Sam Clay. In the novel, Kavalier and Clay become major figures in the comics industry from its nascency into its "Golden Age." Kavalier & Clay won the 2001 Pulitzer Prize in fiction and became a New York Times best-seller, receiving nominations for the 2000 National Book Critics Circle Award and PEN/Faulkner Award for Fiction. It was selected by the American Library Association as one of the Notable Books of 2000 and won the New York Society Library Prize for Fiction, the Bay Area Book Reviewers Award and the Commonwealth Club Gold Medal. The book has also been adapted for the stage by the Book-It Repertory Theatre in Seattle to rave reviews.
Chabon is also the author of two collections of short stories, A Model World and Other Stories and Werewolves In Their Youth. His first young adult novel, Summerland, won the 2003 Mythopoeic Fantasy Award for Children's Literature. He has also written articles and essays, a number of screenplays, including "John Carter" (March 2012), and teleplays (as well as sharing story credit for Spiderman 2), and edited The Best American Short Stories 2005. Chabon's story "Son of the Wolfman" was chosen for the 1999 O. Henry collection and for a National Magazine Award.
Chabon's novella The Final Solution was awarded the 2005 National Jewish Book Award and also the 2003 Aga Khan Prize for Fiction by The Paris Review. Chabon recently accepted the position of chairman of the board of directors at the MacDowell Colony. In March 2012 he was voted into the American Academy of Arts and Letters.
Michael Chabon has lectured widely on topics including the art and craft of writing, the tradition of Jewish fiction, and Vladimir Nabokov, to name a few. His most recent novel is Telegraph Avenue (2012), and in January 2015 collaborated with acclaimed music producer Mark Ronson as lyricist for Ronson's album titled "Uptown Special."
The Tolles Lecture was established in 1991 by members of the class of 1951 in memory of Winton Tolles, class of 1928 and dean of the college from 1947 to 1972. It brings to the Hamilton campus distinguished writers in the fields of literature, journalism and theater to lecture and meet with students.
An Evening With Michael Chabon is hosted by English and Creative Writing and Comparative Literature.