QSR Center Has New Home in CJ
---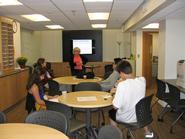 Hamilton's Quantitative & Symbolic Reasoning (QSR) Center held a grand opening in its new offices in the former Media Library on the third floor of C. A. Johnson, (CJ 303), on Sunday, Sept. 9.

Since 1993, the QSR Center had been in a small classroom in C. A. Johnson 224. This new, larger, brighter space has more room for tutoring, a reading area, computers and a printer, and a seminar table. Mary O'Neill, director of the Center, said "Students are encouraged to come in as often as they wish, no appointment necessary, to study, to work with a tutor, or to form a study group."
The QSR Center offers drop-in tutoring in biology, chemistry, economics, mathematics, philosophy (symbolic logic), physics and psychology. Tutoring is done by students who have been recommended by professors in the disciplines that they tutor, added O'Neill.
The Center supports the Quantitative & Symbolic Reasoning Requirement, instituted by the faculty in 2009, which requires all students from the class of 2014 on to take a QSR course before the end of their second year at Hamilton College.