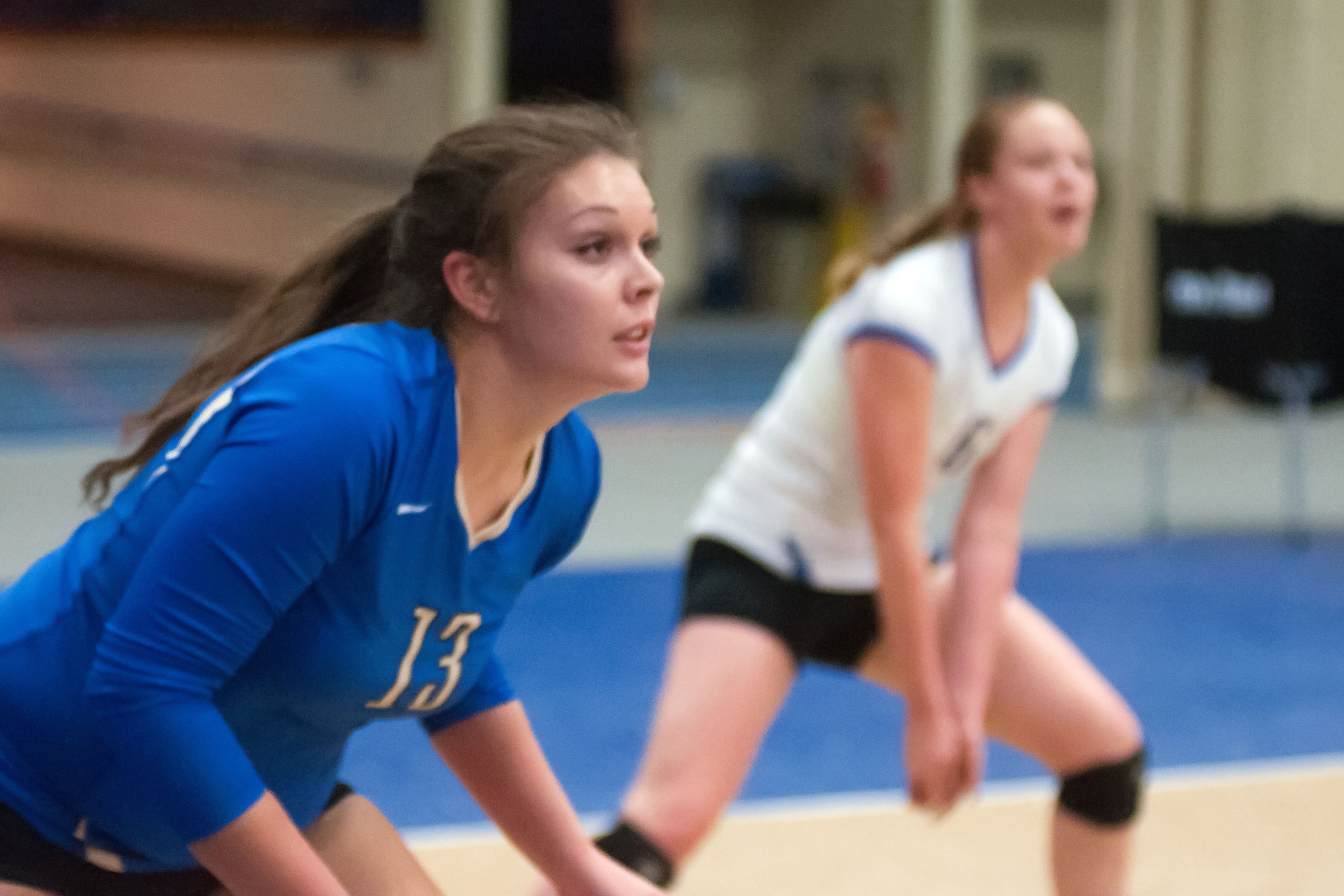 The Hamilton College volleyball team fought back from a 2-1 deficit to force a decisive fifth set before host Wesleyan University posted a five-set win in a NESCAC match played in Middletown, Conn., on Friday night. The Continentals won the first set 25-22, the Cardinals posted 25-19 and 25-23 wins, and Hamilton came back to win the fourth 26-24 before Wesleyan secured the win with a 15-13 victory.

Box score

Jessica Weston '17 hit .565 (14 kills and one error in 23 attempts) to lead the Continentals. She compiled 14 kills – one short of her career high – including five in as many tries in Hamilton's first set win. The Continentals went ahead 17-13 and pushed their lead to 22-16 before the hosts used a 6-2 run to pull to within 24-22. Hamilton claimed the win on a kill by Ivanka Temnycky '17.

Wesleyan (10-8, 2-6 NESCAC) scored the first four points of the second set and led 9-4 and 18-11. Weston served five straight points to spark a rally that cut Wesleyan's lead to a point but the Cardinals scored six of the final seven points to tie the match at a set apiece.

Wesleyan, which was led by 19 kills by Tia Taylor '18 and 18 from Sarah Swenson '18, trailed 17-12 in the third set before mounting a comeback. The Cardinals scored five points in a row to tie the score then used a 5-2 spurt to take a 23-20 lead. Hamilton closed to a point twice (23-22 and 24-23) but a Taylor kill gave Wesleyan a 2-1 lead. Taylor's kill came on one of 59 assists by Claire Larson.

Wesleyan's Rachel Savage '17 led all players with 31 digs and five service aces. Taylor finished with 13 digs. Caroline Diemer '18 contributed 12 kills and Naja Lewis '16 notched seven blocks.

The Continentals (12-8, 3-4) jumped out to an 8-1 lead in the fourth set and eventually led by eight points. After a 9-3 Wesleyan run tied the score at 21-all, the teams traded points until a Cardinal service error and a kill by Hamilton's Emma Lonadier '15 gave the Continentals the win.

Neither team led by more than two points in the final set until three straight Wesleyan points, including a pair of aces by Natalie Wilderant '15, put the Cardinals ahead 12-9. Hamilton's Kyndal Burdin '18, who recorded a personal-best 45 assists, collected a kill and an ace on back-to-back plays to slice Wesleyan's lead to 13-12. The Cardinals maintained the lead and took the win on Taylor's 19th and final kill.

Lonadier had 12 kills and Anna Brown '15 led Hamilton with 19 digs. Christine Zizzi '18 added 13 digs with Burdin contributing 10. Weston and Zizzi both had three aces and both were one short of a career high. Margaret O'Brien '18 notched five blocks, including three solo.

The Continentals conclude their weekend road trip with a 2 p.m. NESCAC match at Trinity College on Saturday, Oct. 18. The Cardinals host Middlebury College on Saturday afternoon. Hamilton and Wesleyan will meet in non-conference action next Saturday, Oct. 25, in the Hall of Fame Classic at Smith College.