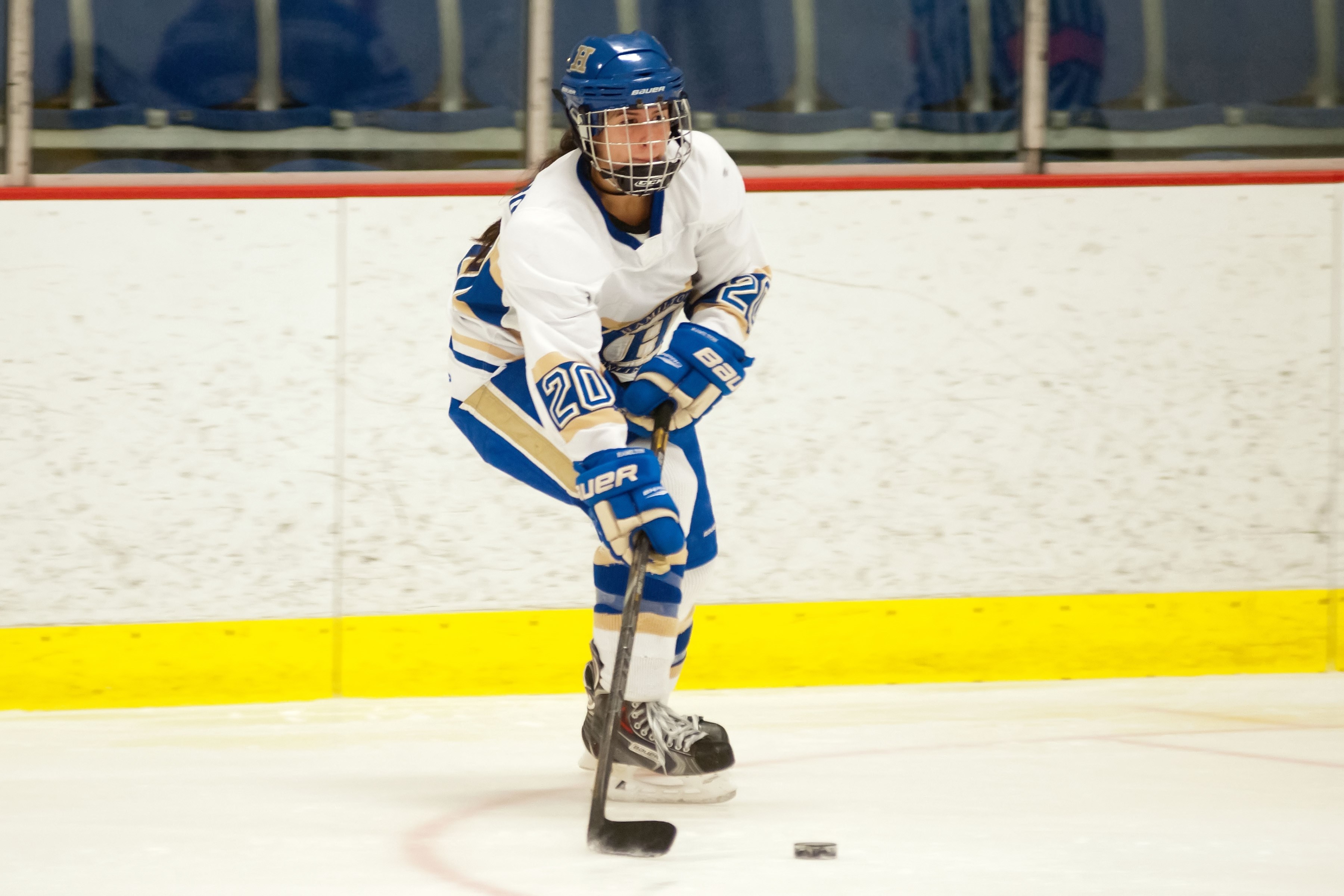 The Hamilton College women's hockey team stretched its winning streak to four, rallying for a 5-3 win over Plymouth State University at the 10th Annual Saint Michael's College DoubleTree Classic on Saturday afternoon.

Box score

The Continentals finished the weekend with a pair of victories to even their record at 4-4-2. Hamilton's four straight wins is the program's longest streak since early in the 2012-13 season.

Steph DiPietro '18 scored twice as Hamilton recorded the game's final three goals. DiPietro's season-best second goal put the Continentals ahead for good 7:12 into the final period when she one-timed a Megan Ahern '17 pass just inside the left post. Hannah Bartlett '16 added a power-play goal 6:43 later, picking the upper-right corner from high in the left circle to seal the win.

Sarah Schuchardt '15 stopped all four Panther shots in the final 20 minutes, earning the win after entering the game for the third period. Sam Walther '18 started in goal and made 15 saves.

Plymouth State (1-12-1) took a pair of one-goal leads in the second period before Hamilton's Katie Parkman '17 scored her team-leading sixth goal late in the period to tie the score at 3-3.

DiPietro's first goal gave Hamilton a 1-0 lead with 3:10 remaining in the first period when she slid a back-handed shot from the slot past the screened goalie. Plymouth State tied the score on the first of two goals by Kate Banys '15 just 88 seconds into the second. The Panthers took their first lead 1:47 later on a power-play goal by Olivia Leon.

Teal Gosselin '17 scored her second goal in as many days to tie the score at 2-2 at 11:01 of the second. Gosselin redirected a teammate's pass from the hash marks into the lower left side. Banys' unassisted goal gave the Wildcats their final lead, going up 3-2 at the 13:50 mark.

Parkman, who was named the tournament's Most Valuable Player, netted the tying goal with 1:37 left in the second with Bartlett and Casey Brown '16 assisting on the goal. Parkman sent a shot from the slot that was blocked into a Plymouth State skater but as the player spun away, the puck was sent into the net. Ahern also earned all-tournament honors.

Mariah Trupp '18 made 35 saves for Plymouth State.

The Continentals continue non-league play on Tuesday, Jan. 13, playing a 3 p.m. game at SUNY Potsdam. A victory would give Hamilton its first five-game winning streak since a school-record six in a row in February 2004.