Ravven Is Discussant at SUNY Upstate Talk
---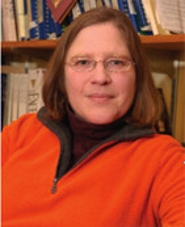 Professor of Religious Studies Heidi Ravven was a respondent in a discussion of Dr. Brian Johnson's "The Psychoanalysis of a Man with Heroin Dependence: Implications for Neurobiological Theories of Attachment and Drug Craving," published in Neuropsychoanalysis, 2010, 12 (2) pp. 207-215. The discussion took place on Nov. 17 at SUNY Upstate Medical University in Syracuse.
This paper discussed the relationship between drive, the endorphin system, human relationships and opioid dependence. Johnson is associate professor of psychiatry and director of addiction psychiatry at SUNY Upstate.
Ravven is an historian of medieval and early modern philosophy an expert on the 17th century philosopher, Baruch Spinoza, and on the medieval Jewish philosopher, Moses Maimonides. She has also published on Jewish feminism and on the philosopher G.W.F. Hegel. Her work on Spinoza has led her to explore how contemporary neuroscience, especially the neuroscience of the emotions, forces us to rethink what it means for a person to be ethical.

Ravven has a four-year grant from the Ford Foundation to write a book titled What Happened to Ethics? In it, she is investigating the history of the way standard philosophy and Western culture in general approaches ethics, what's wrong about it, and how it could be set right. Spinoza's very different approach to ethics from the standard one is at the heart of this book.