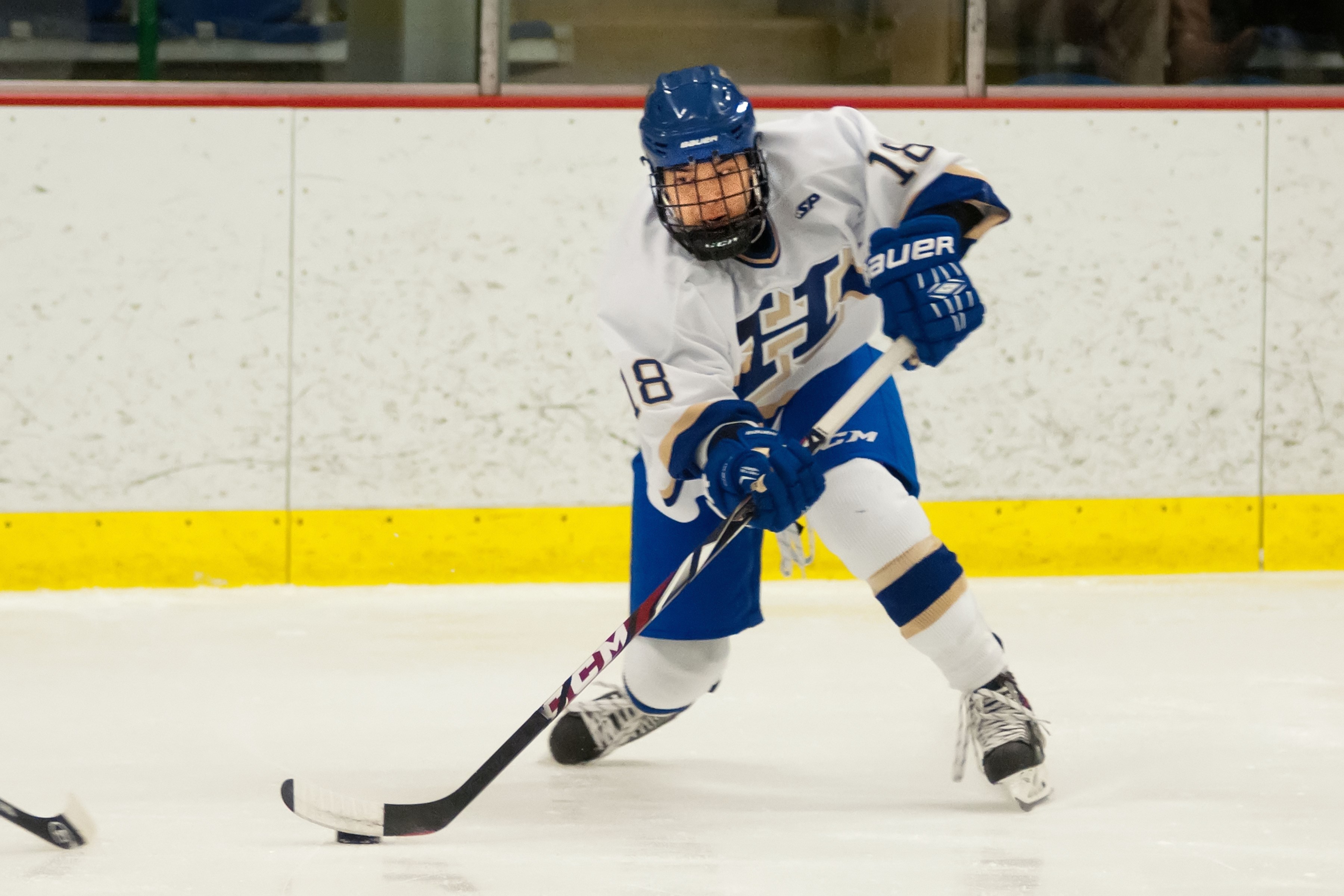 The Hamilton College men's hockey team rallied to tie host Colby College 2-2 in a NESCAC game on Saturday afternoon in Waterville, Maine. The game marked the program-record fifth tie this winter for the Continentals (7-8-5, 5-6-3 NESCAC).

Box score

Neil Conway '18 scored the game-tying goal 6:23 into the final period. He was all alone in front of the goal when he took a pass and fired the puck in the net for his third goal of the year. Pat Curtis '15 and Robbie Murden '17 had their 14th assists on the tying goal.

Colby's Mario Benicky '18 gave the Mules (5-12-3, 2-9-3) a pair of one-goal leads. After a scoreless opening period he put the hosts up 1-0 at the 4:21 mark of the second, taking a pass along the left boards from Andrew Reis '18, beating a defender and scoring on a tough angle.

The Continentals tied the score exactly nine minutes later when Curtis was sent in on goal and ripped a quick wrist shot that beat Colby's Sam Parker '15. Bennett Hambrook '17 and Tyler Lovejoy '16 were credited with assists.

With a Colby power play just ending, the Mules took a 2-1 lead as Benicky one-timed a centering pass from right in front for his eighth goal of the season with 1:01 left in the second period. Devin Albert '17 had his 11th assist and Michael Decker his sixth assist on the play.

Parker made 24 saves for Colby. Tim Nowacki '18 made eight of his 21 saves in the second period.

The Continentals travel to Tufts University on Friday, Feb. 13 for a 7 p.m. NESCAC game. Colby travels to Wesleyan University on Friday night.