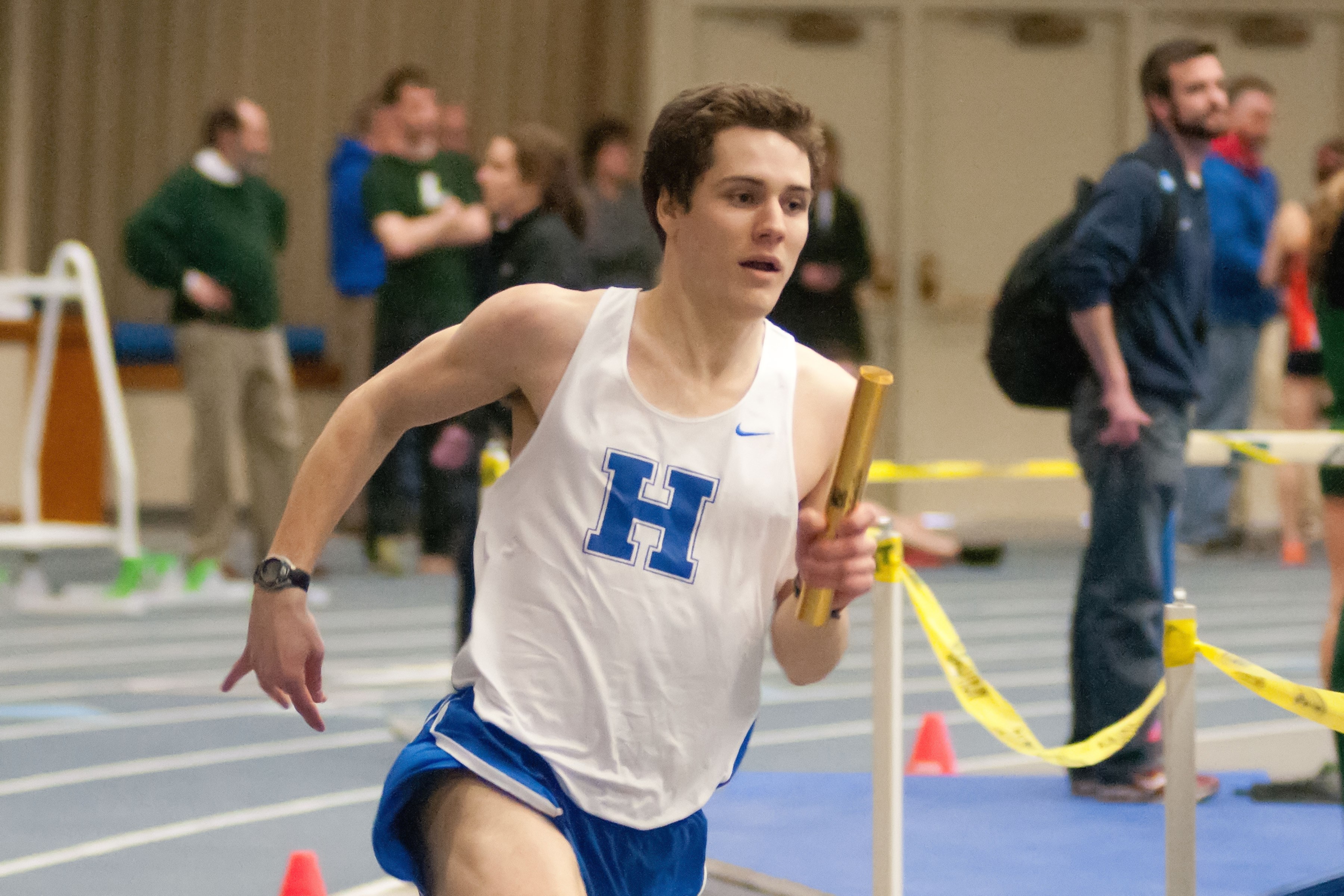 The Hamilton College track & field teams competed at the Ithaca College Quadrangular on Friday night. No team scores were kept at the meet, where the nationally ranked No. 24 Continentals won three events.

Complete results
Joe Jensen '15 led the way, winning two events and setting two facility records and one school mark. He finished first in the 400-meter dash in an arena-record 49.31 seconds, lowering his own 2-year-old facility mark of 49.69 seconds. His winning time of 22.05 seconds in the 200-meter dash also broke the arena record and ranks as Division III's second-best time this winter. Jensen also placed sixth in the 60-meter dash (7.27 seconds). His preliminary time of 7.01 seconds lowered his own school record.

Grant Whitney '17 won the 800-meter run in a season-best time of 1:59.17. Two other Continentals finished in the top five: Jonathan Stanhope '18 was fourth in 2:03.32 and David Kibazo '18 took fifth in 2:04.89.

Hamilton took five of the top 10 spots in the 3,000-meter run. Daniel Baer '15 placed second in 8:59.37, David Freeman '16 finished third in 9:02.67, Jack Pierce '17 came in fifth in 9:04.66, Peter DeWeirdt '18 was sixth in 9:05.71 and Adam Pfander '16 took seventh in 9:07.04.

Eli Saucier '18 and Nate Somes '16 placed seventh and eighth in the 400-meter dash with respective times of 52.26 and 52.34 seconds. Christian Belardi '18 finished third in the 60-meter hurdles in 8.70 seconds. His preliminary time of 8.65 seconds qualified him for the ECAC Division III Indoor Championships next month.

In the mile run, Evan Abelson '16 was fourth (4:29.76), Andrew Sinclair '18 finished seventh (4:38.84) and Erich Wohl '18 was eighth (4:57.84).

Preston DeLaurentis '18 was runner-up in the triple jump with a mark of 13.68 meters (44 feet, 10.75 inches) and also placed 10th in the long jump (6.16 meters/20 feet, 2.5 inches).

Dylan Berardelli '16 recorded a pair of top-five finishes, taking fourth place in the 35-pound weight throw (14.64 meters/48 feet, 0.5 inches) and fifth in the shot put (13.05 meters/42 feet, 9.75 inches).

The Continentals took second place in the 1,600-meter relay with the quartet of Somes, Stanhope, Whitney and Saucier finishing in 3:37.95.

Hamilton begins two days of competition at the New York State Collegiate Track Conference Indoor Championships -- hosted by Rochester Institute of Technology -- on Friday, Feb. 27, at 2 p.m.