Recycling Task Force Begins to Can the Can
---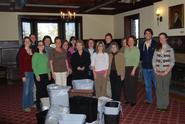 The Recycling Task Force replaced the waste baskets in Spencer House on Feb. 13, making it the first Hamilton building that "Canned the Can." Can the Can is a waste reduction program where office waste is targeted for recycling by reducing the waste basket or eliminating it from the office work station. Ninety-five percent of office waste is white paper, which should be recycled, and often a large waste basket is unnecessary.

The Recycling Task Force is led by Jenn Kleindienst '09, and includes Jenn Santoro '11, James Beslity '11, Gillian Smith '09 and Tara Apo-Priest '10.

Spencer House is the first of eight buildings being retrofitted with eight-quart waste baskets. Scheduled to participate this week are C&D, Career Center, Buttrick, Siuda House, Elihu Root House, the Mail Center and Physical Plant. Terry Hawkridge, assistant director of grounds, horticulture and arboretum, says that all academic and administrative buildings will be retrofitted with the small waste can before the end of the month.