Religion and Modern Art Class Explores Works of Art in NYC Museums
---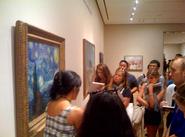 Visiting Associate Professor of Religious Studies Brent plate took members of his "Religion and Modern Art" seminar to New York City on Sept. 2-4 to tour the Guggenheim Museum and Museum of Modern Art (MoMA). The visit will serve as the basis for much of the class conversation in upcoming weeks.

Plate said the purpose of the trip was especially to see the works of artists like Paul Cezanne, Piet Mondrian, Vincent van Gogh, Wassily Kandinsky, Pablo Picasso and Kazimir Malevich. These artists were among the first to make the break from representational art to abstraction at the beginning of the 20th century. This was not merely an experiment in new ways of making art, but for many of them there were deeply religious reasons to do so.

Kandinsky, Mondrian, and Malevich were each influenced by the then-popular religious movement called "Theosophy." The religious movement attempted to integrate all religious traditions and saw a universal current behind them all. The artists saw many potentials in Theosophy, especially in the ways that particular forms (such as the triangle and the circle) and colors (blue and yellow) were understood in mystical and universal ways. There was a utopian belief in a coming "new age" of spirituality, and visual art could help lead the way.

The students were able to experience these works of art firsthand, to stand in front of the masterpieces of early abstraction, as well as later works in Surrealism, dadaism, and the Mexican muralists. The Guggenheim also presented an exhibit of photography and video called "Haunted," and explored the human body in relation to nature, the use of images in relation to death, and the role of memory, all of which are deeply related to religious traditions.

The visit also enabled students to see how the institution and architecture of the museums have fostered a sense of "sacredness" of art. Frank Lloyd Wright's Guggenheim and the renovated MoMA designed by Yoshio Taniguchi each create a world separate from the streets around. The late novelist John Updike once called the recently rebuilt MoMA an "invisible cathedral," and noted how "The art museums, once haunted by a few experts, students, and idlers, have become the temples of the Ideal, of the Other, of the something else that, if only for a peaceful moment, redeems our daily getting and spending." Art is sometimes seen as a replacement for traditional religion, even as art becomes religious itself. These are some of the themes that will be dealt with during the seminar.