Renowned Translator Stanley Lombardo to Give Winslow Lecture
---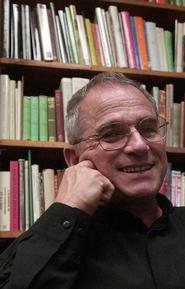 Stanley Lombardo, professor of classics at the University of Kansas, will present the Winslow Lecture on the topic of "Poetics, Translation, and Performance" on Thursday, Jan. 26, at 4:10 p.m., in the Taylor Science Center Kennedy Auditorium. The event is hosted by the Classics Department and is free and open to the public.
Lombardo has received numerous accolades for his translations of Greek and Roman texts, including a Byron Caldwell Book Award for his translation of Homer's Iliad and a National Translation Center Award for his translation of Hesiod. His version of Homer's Odyssey was named a New York Times Book of the Year, and two of his translations, Sappho and Virgil's Aeneid, were finalists for the Pen Literary Award. Most recently, Lombardo has published translations of Dante's Inferno and Ovid's Metamorphoses.
Lombardo's lecture will be his fifth visit to Hamilton. His talk will focus on the final 67 lines of Book 19 of Homer's Iliad.