Retired Professor William Rosenfeld Publishes Book
---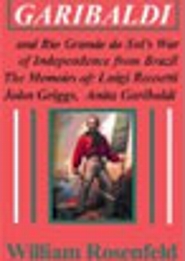 William Rosenfeld, who retired as the Marjorie and Robert W. McEwen Professor of English and a member of the faculties of Kirkland and Hamilton colleges from 1969 to 1995, has published a book, Garibaldi and Rio Grande do Sul's War of Independence from Brazil— The Memoirs of Luigi Rossetti, John Griggs, and Anita Garibaldi (Branden Books, 2013).
Rosenfeld taught at Kirkland from 1969 to 1978, and then at Hamilton until 1995.

According to the publisher, "Garibaldi, of course, is best known as the Father of Modern Italy. Few people know, however, that President Lincoln sought Garibaldi's services on behalf of the Union Army. Fewer people know that Garibaldi also fought many land and naval battles in Brazil. Anita Doarte, Luigi Rossetti, and John Griggs were Garibaldi's closest comrades during Rio Grande do Sul's War for Independence from Brazil—Garibaldi's formative years as a military leader.
"Because none of the three left a memoir, Professor William Rosenfeld wrote one each for them, as they were Garibaldi's closest comrades. To help set the three memoirs in their proper historical context Professor Rosenfeld invented one additional voice, that of a scholar-editor, who furnishes the context for each memoir. To make Garibaldi's life come alive historically, the author also includes exhaustive chronologically excerpts from Garibaldi's own memoirs. Garibaldi's story comes alive as in no other book about this international hero.
"Professor Rosenfeld's interest in the Revolution in Rio Grande do Sul derived from his year as Fulbright Professor of American Literature at the Federal University in Rio de Janeiro, during which he lectured in Porto Alegre. That interest piqued when he discovered an enticing footnote naming John Griggs, a United States citizen, as one of Garibaldi's comrades in the revolution."