Reunions '10 Alumni Colleges Offer Plethora of Learning Possibilities
---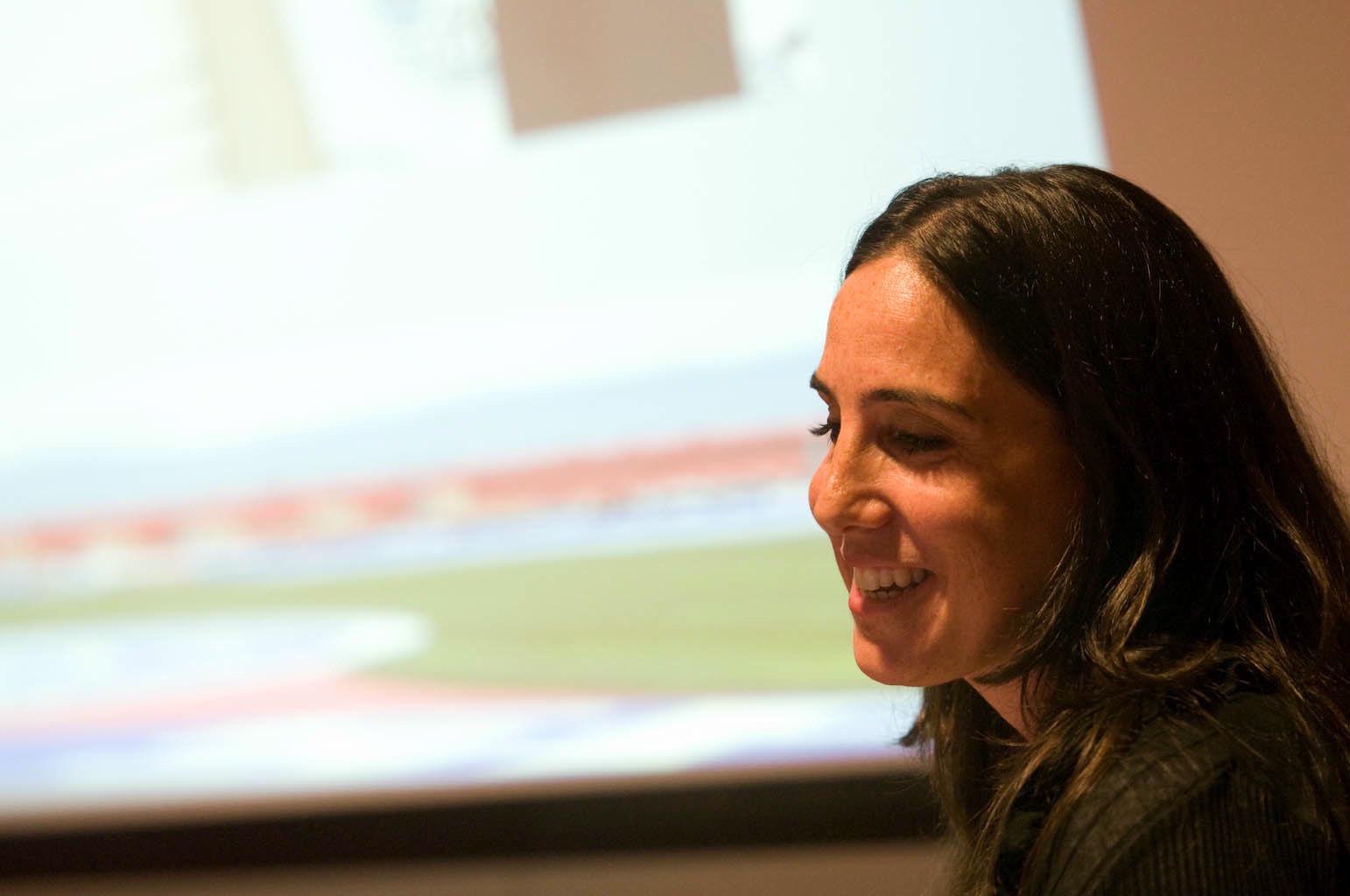 Over the course of Reunions '10 Weekend, the speakers at the 30+ Alumni College events informed alumni on a wide variety of topics, ranging from the most pressing concerns on an international scale to the history and current debates of Hamilton itself. Nine such events, described below, focused on the current state of American healthcare, Hamilton during the Vietnam War, an alumna's rise to prominence in the world of NASCAR, writing and fine arts as career paths, political engagement in current and recent generations, investment strategies and the challenges of entrepreneurship.

American Healthcare How Bad Is It?
This panel about the status of the American healthcare system consisted of alumni, all from the class of '70, who have made their careers in different avenues of the medical system. Thomas Biancaniello has worked for many years as a pediatric cardiologist and has published and taught extensively, Mark Kahn is a vascular surgeon who is associated with Mount Sinai NYC, and Donald Stangler is an internist and rheumatologist with his own practice in Connecticut, although he has worked at Oxford Health Plans and UnitedHealthcare as well as in France.

The panelists described the myriad components of the healthcare system in America that makes it so complicated. Physicians primarily seek to avoid liability; one lawsuit can end a doctor's career. Physicians want to a good job but conditions often work against them and, instead of serving each patient to the best of his or her ability, doctors find themselves able to give less and less time to each patient and passing patients to other doctors for fear of liability. Hospitals feel constant pressure to expand and, as the cost of medical technology keeps rising, they struggle to find a steady cash flow. HMOs are cutting deals with hospitals and putting them in competition with one another, and hospitals subsist on grants and charitable donations instead of money from insurance companies and the government. The insurance companies and HMOs arguably have the most control, seeking profit both through hospitals and doctors. And, in the end, it's the public that suffers; hospital costs are out of reach for almost all Americans and, while insurance costs are often manageable, the quality of care and lack of freedom to choose their doctors leave many Americans dissatisfied and in financial straits from a lack of insurance coverage. The populations of the poor and the elderly are growing, and the current system is already struggling to care for them.

It is these conflicting interests that Dr. Biancaniello described as a "lack of alignment"—that is, that the cost of healthcare does not match up to its performance. But the panelists were split as far as what that means for the healthcare system in general. While Dr. Kahn thought that the system is inherently flawed, Dr. Biancaniello and Dr. Stangler were more optimistic, having confidence that the system can work, albeit with some reform.

Hamilton During the Vietnam War
Jumping from current concerns to past ones, Stephen Rabe '70, a professor of history and the Arts and Humanities Endowed Chair at that University of Texas in Dallas, described Hamilton during the Vietnam War and the juncture at which "old Hamilton" became "new Hamilton." Although he teaches a course every year on America during the Vietnam War and has even taught this course in Vietnam, the subject matter had added resonance when seen through lens of the common experiences of Hamilton's class of 1970.

According to Dr. Rabe, 1968 was the truly pivotal year at Hamilton, as it was for so much of the country. Before this year, Hamilton was almost completely white and male and was a self-proclaimed ivory tower with minimal links to the "real world." After 1968, Hamilton students became increasingly concerned with the outside world and generally became more politically active—a far cry from students' general complacency only a few years earlier.

Dr. Rabe described four main reasons for this rapid shift in the student body and administration. First were the demographic and cultural changes that were occurring all throughout the United States during the 1960s. The free speech movement from California and Civil Rights movement finally reached the Hill, causing students to reject many of the traditional collegiate restrictions (such as monitoring female presence, wearing suits to dinner, and even academic requirements).

Next, the leadership of John Chandler, president of Hamilton from 1968-1973, helped Hamilton integrate more of the outside world. He brought speakers to the Hill bearing a greater social consciousness in mind, featuring great names such as Alex Haley and Richie Havens. Third was the opening of Kirkland College. Besides the presence of female students and faculty on a campus that was previously all male, Kirkland also perpetuated many values that Hamilton lacked as an institution: its faculty was more openly political, the students more vocal, liberal and adventurous, and it focused more on the performing arts. Finally, the war was not ending, and graduating seniors would soon be subject to the draft, bringing home the concerns about the war to everyone eligible for the draft. With the dramatic events that took place all over the US in 1968, students began demonstrating, even refusing to go to class for the last month of the 1969-1970 academic year. As Dr. Rabe shows, the world took a long time to arrive at Hamilton, but, once it did, the school was never the same.

An Unlikely Pit Stop for a Hamilton Grad – A Peek Under the Hood at the World of NASCAR
This "new Hamilton" taught its students that a Hamilton education can prepare them for anything. This was also the topic of a lecture given by Gillian Zucker '90, the current president of Auto Club Speedway, the track that hosts the NASCAR Sprint Cup Series. She is the first female president of the track and has held the position since 2005. After interning with the Utica Devils hockey team during her senior year at Hamilton, Zucker knew that she wanted to help run a sports franchise. But that path took her through many different companies and all over the country; she has worked with a public relations firm, several different minor league baseball teams, Sports Illustrated magazine, Kansas City Speedway and Daytona International Speedway.

NASCAR is, surprisingly, a privately held company. It is the premiere spectator sport in the US, the #2 rated sport on TV, and 40 percent of its fans are female. The company started with only three racetracks and has now expanded to include 12. The Auto Club Speedway, located outside Los Angeles, is two miles long and "is like a small city inside," complete with stores and restaurants.

Zucker enumerated the aspects of the Hamilton "war wagon" (the cart that contains the tools that the pit crew uses) that have allowed her to be successful. The concern for people, the ability think, write and speak with clarity, aptitude in persuasion, integrity and responsibility, and the importance of being yourself are all skills that Zucker honed at Hamilton and have served her well in her career.

Although they graduated in different years and have pursued careers in different fields, certainly all of the alumni who presented this weekend would agree with Zucker about the quality and value of a Hamilton education.

Other Alumni Colleges:
by Vige Barrie
"Aaron Burr Lucky Shot Writers Panel: Hits, Misses, Close Calls"
Damian Slattery '80, reporter at Sports Illustrated for 20 years and a longtime documentary and feature film writer, began this writers' panel by interviewing his fellow classmate Mark T. Sullivan '80, querying him about his career path. In the process Slattery, who now works in marketing for Time Magazine, also shared his highs and lows of his life as a writer. Both alumni pointed to Hamilton as the place where they began their writing careers, Sullivan as a creative writer and Slattery as a playwright.

A former investigative reporter and the author of seven critically acclaimed and bestselling novels, Sullivan recounted how, having been counseled against a career in writing by one professor, he sought and received reassurance from Professor Emeritus Richard Somer to follow his dream. On his 30th birthday, having spent his years after graduation as a reporter and not as a creative writer, Sullivan panicked. He took a leave of absence from work and wrote his first book, The Fall Line, about extreme skiers. Although he has had great success with his novels, he said that "writing for a living is not for the faint of heart."

Days after his graduation, Slattery began writing his first screenplay. Driven by his desire to write full-time, he quit his first three salaried positions and joined with a documentarian to produce a well-received movie. Both alumni discussed the difficulties and the uncertainties of their professions and the power offered to writers by digital publishing.

"The Next New Generation of Leadership"
Harvard Institute of Politics Director Bill Purcell '76 began his talk, The Next New Generation of Leadership, with a few comments on today's emotion-packed and difficult political climate. Purcell, who had served as mayor of Nashville from 1999 to 2007 and had received the "Public Official of the Year" award from Governing Magazine, described it as a "most interesting time in politics."

He continued with a short survey of political history from 1960 to the present. President Kennedy's emphasis on the citizenry's obligation to serve, Purcell observed, "defined what happened in the next decade." By 1972 when Purcell arrived on campus, 18-year-olds had just been given the right to vote, and participation among the 18-24 age group was at an all-time high of 55 percent. Voter participation in that age group declined steadily to a low of 41 percent in 2000.

Harvard students, who wondered what the reasons were for the decline, founded a youth polling project overseen by the Institute of Politics at the John F. Kennedy School of Government. What the institute's pollsters determined was that in 2000, college-age voters felt disconnected from government and politics.

In the last decade, however, the trend has reversed, and young voters are beginning to see that there is a role for government in their lives. Purcell attributed part of this shift in perspective to the traumas witnessed by this age group - from the fall of the Twin Towers to Katrina. In 2004, participation reached 47 percent. By 2008, the institute's polling determined that 59 percent of 18-24-year-olds said that they were interested in some kind of public service. "The millennial generation is committed to community service," said Purcell. "When they participate, they have the capacity to make a difference."

Purcell had taken time out from Hamilton in the middle of his college education to join the campaign of New Yorker Allard Lowenstein who was running for a seat in Congress. He credited the Hamilton administration for being "student-focused." He singled out Warren Wright, his rhetoric professor, as being the most influential and encouraging him to follow his heart.

After Purcell concluded his presentation, he took questions from the audience and was asked "why he walked away from politics." He answered, in part, "All I have ever known is to do the best job possible in the job I have and the rest will come. And the opportunity to be involved in this institute came. Working in government doesn't preclude engagement in the private or non-profit sector and vice versa."

"Dog Portraits and Teenage Mutant Ninja Turtles ... How I Came to Be"
Studio art major Laura Wilder '80 has a successful career as an artist in spite of her struggle for definition and direction along the way. "Dog Portraits and Teenage Mutant Ninja Turtles ... How I Came to Be," Wilder's presentation, chronicled her journey from realist painter in an abstract expressionist environment to commercial artist to Roycroft master artisan to environmental propagandist. Throughout the talk, her standing-room-only audience was treated to a slide show of her colorful prints and paintings.

Along the way she strove for balance between commercialism and artistry and mass production and simplicity. She explained how she pursued her vision while trying not to compromise in order to earn a living.

At Hamilton, Wilder felt out of place surrounded by her fellow classmates, all of whom were immersed in abstract expressionist work. She worried that she might not fit in the "fine arts" world and pursued a career in commercial art. After four years, it became clear to her that this route was not one she could sustain much longer. Shortly after declaring herself a freelance illustrator, she was given a meaningful assignment, to create portraits of the 35 Syracuse students killed in the Lockerbie, Scotland, airline crash.

Wilder encountered the work of Roycroft artist Janice McDuffie and was drawn to the flat simplified block prints created by Roycroft printmakers. She experimented with etching and screen printing to increase her efficiency in production. She described her resistance to creating art "on popular demand" as she moved from dog portraiture to commissioned paintings of homesteads. Describing her two years of dog portraits, she said, "I knew I was on a slippery slope and down I went into full blown cuteness." Again she became tired of the commercial repetition involved in this kind of art.

On top of the artistic demands, running her business had become a full time job. Recently Wilder has relinquished the business aspects of her art to her husband and has focused on a series of prints that explore quiet simplicity. She hopes that her art can express values and reach out to others, and she is connecting with the environmental movement through her "passionate green propaganda prints."

Other alumni colleges:
by Melissa J. Kong
From Brainstorm to Bookstore: Getting Your First Book Published
Have you ever wondered what goes into getting a book published? Three published authors from Hamilton's Class of 1985 shared their wisdom and experience on what it takes to do just that.

Panelists Amy Biancolli (Fritz Kreisler: Love's Sorrow; Love's Joy), Fred Zalatan (The Clinton Comets–From the Chenango Canal to National Championships) and Chuck Miller (Warman's American Records 1950-2000, Ghost Signs of the Capital District) spoke about the challenges and joys of writing and publishing a book.

Miller gave the following advice to the budding writers in the audience: "Write a minimum of at least one page a day, every single day," joking that by the end of the year, the writer would have a 365-page book. He also encouraged Hamilton alumni who were interested in writing to "write about something that you are interested in learning more about. It will drive you to continue working on the project."

Amy Biancolli agreed with Miller; she noted that she completed her biography on Fritz Kreisler because the violinist connected her to memories of her parents. Biancolli expressed her love for journalism, noting, "One thing I've always liked about journalism is that you are not just paid to write - you are paid to learn." She provided inspiration to the audience when she said, "If you have an urge to write, you should. You are unique, and therefore, your book will be, too."

Of course, there is more to writing and publishing a book than just coming up with a great idea. Fred Zalatan commented on many of the logistics in turning an idea into a published book. He advised the audience to "make sure you control your copyright for your text and the photos you use in the books." Zalatan also suggested that writers be careful to always check their work after editors and proofreaders work on it to ensure that their voices remain in tact.

All three panelists noted that, while publishing books are not always easy, the writing journey could be fun, and ultimately, rewarding.

Investment Strategies for the Next 20 Years
Alumni of all ages came to hear Rich Bernstein '80, CEO of Richard Bernstein Capital Management LLC and former chief investment strategist at Merrill Lynch, talk about simple - but critical - investment strategies that lead to building long-term wealth.

Bernstein discussed three basic elements to investing that are often ignored: compounding income, extending time horizons, and portfolio diversification. He explained that day trading is often a "coin toss," noting that the fundamentals of the economy change over long periods of time, so very short-term gains or losses are based more on chance than strategy.

Bernstein fielded questions from Hamilton Alumni in the audience, many of which were tied to the American political landscape. After being asked about global wealth, Bernstein noted: "The disparities of wealth throughout the world are very wide. In the future, this may not change by revolution, but it could change by populism."

The audience left with sound advice from Bernstein regarding what lies ahead for the economy, as well as simple- but essential- investment strategies for building long-term wealth in the future.

Lessons from Accidental Entrepreneurs
Several Hamilton entrepreneurs gathered to share lessons and stories of their business ventures with fellow Hamilton alumni. Panelists included: Gretchen Grad '85, Blake Darcy '78, Jennifer Morris K'72 and Michael Gruen '06, and the panel was moderated by Nathana Josephs '80. Each of the panelists shared their lessons in entrepreneurship.

Gretchen Grad is the founder of the non-profit organization Hands of Peace, a unique interfaith program that brings Palestinian, Israeli and American teens together for dialogue and friendship. Grad realized how important it was to ensure the continuation of her organization. She knew that many of her ideas about where she wanted to take the organization were stored only in her head, so she began to "document and delegate."

Grad suggested that all entrepreneurs write down job descriptions, a mission statement and future plans for their organizations. She said, "Find good people who are just as passionate as you about what they are doing and then trust them." While delegating tasks to others was challenging for Grad at first, it ultimately helped her organization grow.

Michael Gruen '06 is one of Hamilton's youngest entrepreneurs. He is the CEO of LexMachine.com, a website used to quickly generate human-readable legal documents. He also co-authored Twitter for Dummies. When asked about the best way to stay in business, Gruen said, "Recognize the risks of your business - the competitors, the unknowns, and the market externalities - and figure out how to best mitigate them."

Jennifer Morris K'72 is the founder of LocaWatt Solutions and Image Engineering Corporation. She shared her insights with the audience about how to raise capital to start a business. Morris noted, "As entrepreneurs, the first people we ask for funding are friends and family. But, in terms of risk-reward, those are the individuals you have the most at stake with." Not only is it the investment at stake, but also the personal relationship. Instead, Morris suggests that entrepreneurs be more strategic about how they go about getting seed funding for their organizations.

Blake Darcy '78 is a pioneer of online commerce. In 1988, he launched one of the first and most successful online brokerage firms, DLJdirect. Currently, he is the co-founder and CEO of Formula Investing, LLC.

Darcy commented on why "bad times" are actually great times to start a business. For one, when times are uncertain, large corporations often cut back spending on innovative products and services. Thus, it is easier for smaller companies to enter the market. Darcy also noted that when unemployment rates go up, start-up companies are able to hire top talent that they would not otherwise have been able to attract.

He did note one downside to starting a business in a bad economy: the challenge of obtaining credit. If entrepreneurs can overcome the funding hurdle, then starting a company in a down economy can be a smart decision. Darcy ended by saying, "People may tell you that the business you want to start is a bad idea. But sometimes, you just have to ignore them and go for it anyway."

The panel was sponsored by the Hamilton Venture Network, an organization designed to connect and support entrepreneurs in both non-profit and for-profit projects.