Reunions '11 Begin On June 2
---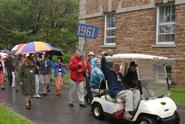 Hamilton will welcome back more than 1000 alumni and their guests when it hosts the college's annual Reunion Weekend, this year on Thursday-Sunday, June 2-5. A special welcome goes to members of the class of 1961 who are celebrating their 50th reunion. A full schedule of events will keep attendees busy through a weekend that promises sunshine and comfortable temperatures.
Thirty-six Alumni Colleges during the weekend will educate and entertain. In preparation for Hamilton's Bicentennial, Maurice Isserman, the James L. Ferguson Professor of History and author of On the Hill: A Bicentennial History of Hamilton College, will discuss the contest between the forces of change and continuity in the college's second century. His talk will take place on Thursday, June 2 at 2 p.m., and again on Friday at 1 p.m., both in the Red Pit, K.J.
Alumni Colleges on Friday, June 3, will include:
"Hydrofracking the Marcellus Shale," with Steve Wood '98 and Geosciences Professor Dave Bailey at 10:30 a.m., Kennedy Auditorium, Science Center; "A History of Terrorism," 1 p.m., KJ, room 202, with Jon House '71, professor of military history at the Army's Command and General Staff College and a former intelligence analyst in the Pentagon; "Getting to Green: An Introduction to Sustainable Design," with Lindsay Suter '86, at 2:30 p.m., Bradford Auditorium, K.J.

At 4 p.m., Dr. Hugh Sampson '71 will discuss "Tackling the allergy epidemic." A world-renowned expert on food allergies and director of the Jaffe Food Allergy Institute at Mount Sinai Medical Center, he'll discuss theories about why these allergies are on the rise and describe promising new treatments now in clinical trials. (K.J., room 202).
Also Friday at 4 p.m. is "Heads Up - Our Psychedelic Future and the Coming Neurosingularity" with Tom Roberts '61. This discussion on the comeback of psychedelics – now in university research labs and medical schools – will take place in the Kennedy Auditorium, Science Center.

History buffs might enjoy attending "Red Summer, the Summer of 1919 and the Awakening of Black America," 4 p.m. After World War I, black soldiers believed their participation in that war finally earned them the rights they had been promised for decades. Instead, a wave of anti-black riots and lynchings swept the country and blacks responded by fighting back. Cameron McWhirter '86 will discuss his new book on the topic. (Bradford Aud.)

A featured event on Friday night is the screening of documentary Not My Life, at 7:30 p.m., in Bradford Auditorium. This film by Oscar nominee Robert Bilheimer '66, president of Worldwide Documentaries, Inc., is the first documentary to depict the horrifying and dangerous practices of human trafficking and modern slavery on a global scale.

Not My Life features dignified and inspiring testimony from survivors; depictions of trafficking, exploitation, and slavery in all parts of the world including forced labor in Africa; street begging and garbage picking in India; sexual trafficking in the U.S. and Southeast Asia; and various forms of child enslavement and abuse in both North and South America.

Friday night's entertainment will include "Older than Dirt" Curt Brand, who invites talented alumni to join him to perform, read poetry or offer other forms of entertainment. (9 p.m., Café Opus) and a movie on the Commons Quad.

Saturday's highlights include a state of the college address from President Joan Hinde Stewart at 2 p.m. in the Chapel, an Afro-Latin cultural fiesta, the annual Long Run (cross country fun run), and the fourth annual bicycle ride through the Mohawk Valley.
Saturday's Alumni Colleges include "A Life in Politics" with former Delaware Governor Mike Castle '61 at 3 p.m. in the Kennedy Auditorium; "Hamilton Then and Now," a discussion sponsored by the class of 1991 at 3 p.m. in Sadove Student Center at Emerson Hall; and a poetry reading by Jay Williams '54, the Walcott-Bartlett Professor of Religious Studies, at 4 p.m. in the Emerson Gallery.
On Saturday evening attendees can enjoy a performance by Steak Nite, a band formed at the college in 1972. They return to the hill for a concert at 10 p.m. in Soper Hall of Commons.
Also during the weekend, alumni will celebrate at class dinners, hold class meetings and participate in a Service of Remembrance for deceased classmates.