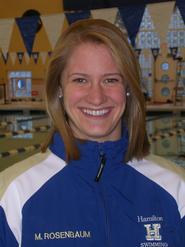 Maggie Rosenbaum '14 competed in her final race for Hamilton College at the 2014 NCAA Division III Swimming & Diving Championships on March 22 but she leaves a legacy with the men's and women's swim programs that will last for quite some time.

Rosenbaum ended up with eight All-America awards, including at least one every year. In order to be an All-American, one has to finish in the top eight of an event at the NCAA meet. She is the only Hamilton women's swimmer who has collected that many All-America honors. Hamilton men's swimmer Brian Hogan '78 matched Rosenbaum's All-America haul with eight from 1975 to 1978.

In 2011, Rosenbaum made history by finishing first in the 100-yard backstroke at the NCAA championships. She became the first Hamilton women's national champion in a swimming event. Rosenbaum repeated the feat at the 2012 NCAA meet and finished second the following year when the winner set a Division III record in the 100 back. She ended up in fifth place in the event at this year's meet. Rosenbaum was a two-time All-American for the 100 butterfly (2nd in 2014, 4th in 2013) and the 200 back (7th in 2013, 3rd in 2012).

Thanks in part to Rosenbaum's success at the NCAA championships, the team has produced four finishes in the top 20 at the national meet. The Hamilton women tied for 20th place in 2011 and 2014, finished 18th last year and 14th in 2012.

For four years Rosenbaum was one of the top athletes at the NESCAC women's swimming and diving championships, which could be the most competitive conference meet in Division III. She won 11 of 12 backstroke events at the conference championships during her career and finished runner-up in the 12th.

Rosenbaum was selected the 2012 and 2013 NESCAC Swimmer of the Meet and was a four-time member of the all-conference team. In 2014, she picked up the Four Year High Point Swimmer award, which goes to the swimmer that generated the most points for her team during the last four NESCAC championships.

As for records, Rosenbaum holds a truckload of them. She graduates as the NESCAC championship record-holder in the 50 and 100 back, and owns the conference record in the 50 back. Rosenbaum holds several records at pools around New England, along with the 100 fly that she posted in her final home meet at Hamilton's Bristol Pool. She has the program record in no fewer than seven individual events and is part of four relays that have set a team record.

As if all the athletic accolades weren't enough, Rosenbaum has proved herself in the classroom at Hamilton. She earned a spot on the 2011-12 NESCAC Winter All-Academic Team and still maintains one of the top cumulative grade point averages on the team.