Women's Swimmer Rosenbaum '14 an NCAA Champion
---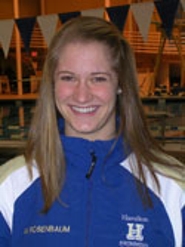 Hamilton College's Maggie Rosenbaum '14 finished first and was crowned a national champion in the 100-yard backstroke at the 2011 NCAA Division III men's and women's swimming and diving championships at the University of Tennessee's Allan Jones Aquatic Center in Knoxville, Tenn., on March 25.

Rosenbaum is the first Hamilton women's swimmer to capture an NCAA title. Diver Cady Kashner '03 won the 1-meter springboard at the 2003 women's championship. Rosenbaum joins Kashner and track and field standout Maggie Hanson '02 (indoor 5,000-meter run in 2001) as the only female individual national champions in any sport at Hamilton.



Two Hamilton men's swimmers have won national championships, but both were more than 35 years ago. Jeff Carlberg won the 100 breaststroke in 1974 and 1975, and Bruce Mohl finished first in the 200 back in 1967 and in the 400 individual medley in 1968.

Rosenbaum's time in the evening championship finals was 55.21 seconds. Sadie Nennig of Emory University finished second in 55.80 seconds. Rosenbaum was in first place after 50 yards with a time of 26.40 seconds, but Illinois Wesleyan University's Andrea Peterson was just .20 seconds behind. Rosenbaum's time of 28.81 seconds in the final 50 yards was just enough to hold off the other seven swimmers.

In the morning preliminary heats, Rosenbaum broke her own school record in the 100 back for the third time in two days with a time of 54.79 seconds. The NCAA Division III record is 53.85 seconds. She was seeded first in the 100 back heading into the national meet. Rosenbaum is the program's first All-American since Brittany Achin '05 in 2005.

Click on the link below to see an informal 60-second interview with Rosenbaum that was conducted after the finals by CollegeSwimming.com. The interview starts 2 minutes, 29 seconds into the clip.

Rosenbaum interview

Rosenbaum led off for the 800 freestyle relay that finished 20th with a time of 7:46.92. The team record is 7:46.06. Joan Burton '13, Liz Bucceri '11 and Megan Gibbons '12 joined Rosenbaum on the relay. The Continentals are in 20th place in the team standings with 38 points.

On Saturday, March 26, the fourth and final day of the championships, Hamilton swimmers will compete in the 100 free (Gibbons), 200 back (Rosenbaum) and 400 free relay.