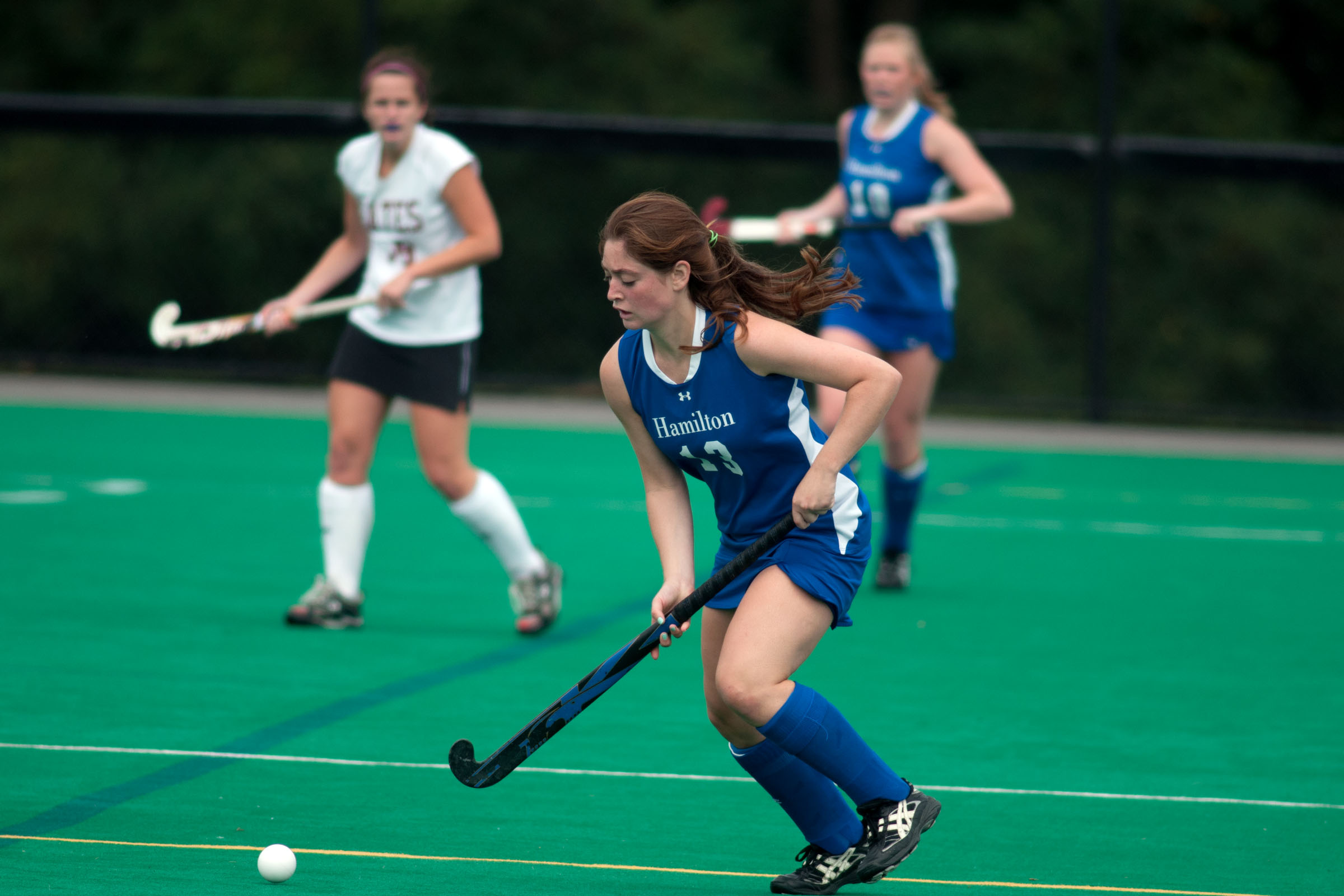 The Hamilton College field hockey team won its fifth game in six tries, rolling to a 10-1 non-conference victory at Morrisville State College on Tuesday evening. The Continentals posted their highest-scoring output in 108 games.

Box score
Eva Rosencrans '17 led the Continentals with four goals and nine points; Aubrey Coon '16, Merisa Dion '17 and Katey Hopper '15 scored two goals each. Rosencrans' totals were Hamilton's highest since Colleen Callaghan '11 notched four goals and two assists in a win over Hartwick on Sept. 28, 2010.

Rosencrans powered the Continentals to their fourth straight win, scoring all four of her goals in the first half, then assisted on Hamilton's first second-period goal.

She opened the scoring 75 seconds in by converting a penalty stroke. Three minutes later, she tipped in a drive taken from the top of the circle by Sam Sherman '15. Rosencrans completed her second natural hat trick in three games just two minutes later by sweeping a back-hander into the center of the cage. Her fourth goal came in the 28th minute when Eleni Neyland '18 sent a drive from the top of the circle that Rosencrans tipped in.

Rosencrans has scored 11 goals this year, including nine in Hamilton's four-game winning streak. She has now scored 19 goals in 20 career games.

The Continentals last reached the 10-goal mark in a 10-2 win over Oswego on Sept. 12, 2007.

Hopper notched her second career two-goal game with a pair of second-half scores. She tipped a Rosencrans shot over the pad of Morrisville goalkeeper Meaghan Mack '17 four minutes into the period then closed out the game's scoring with another tip-in with 44 seconds remaining.

Dion tipped in a shot taken by Margaret Revera '18 from the center for her first goal and converted a rebound of a Coon shot off the post.

Coon scored a pair of unassisted goals – her first two of the year – to put the Continentals up 9-0 before Morrisville's Alyssa Bassett '17 put the Mustangs on the board. Bassett swept in a shot from the goal line off a drive by Lauren Kellum '18.

Hamilton's Victoria Trentini '15 made two saves and her scoreless streak ended at 253:25, dating back to the Continentals' overtime win at Bates.

Hamilton outshot the Mustangs 40-7. Mack made seven saves and Kaitlyn Baker '18 stopped two shots.

The Continentals, who are off to their best start since the 2010 team won 11 of its first 12, return to NESCAC competition on Saturday, Sept. 27, with a noon game at Wesleyan. Morrisville plays a SUNYAC game at Brockport on Friday.