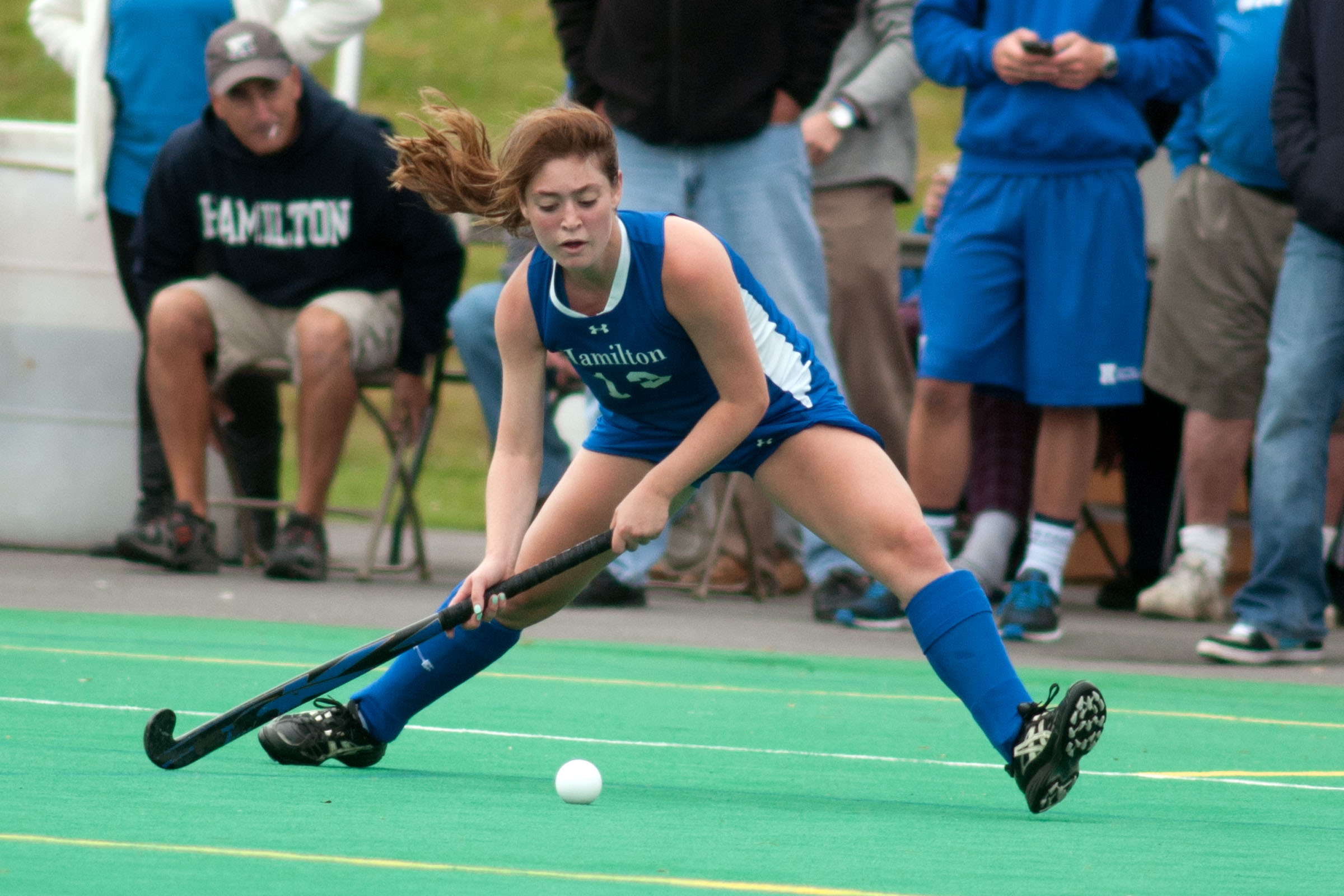 The Hamilton College field hockey team dropped a 5-2 decision to nationally ranked No. 8 Amherst in NESCAC action on Saturday at Amherst's Gooding Field.

Box score

Eva Rosencrans '17 scored both goals for Hamilton, which fell to 5-4 on the season and 2-3 in conference play. The Lord Jeffs improved to 8-2 overall and 5-2 in the NESCAC.

Rosencrans raised her season total to 14 goals, good for third on the program's all-time single-season list. She entered the week ranked fourth nationally in goals per game. She opened the scoring at the 18:57 mark with an unassisted goal before the Lord Jeffs scored three straight in a 12-minute span.

Madeline Tank scored Amherst's first two goals, tying the game at the 25:28 mark and notching the go-ahead score 2:39 later. She completed the hat trick with a goal 15 minutes into the second period.

Ellie Andersen, who finished with a goal and an assist, scored what proved to be the game-winning goal, putting Amherst up 3-1 just 90 seconds into the second half.

After Tank converted a pass from Annie Turnbull midway through the period, Rosencrans scored her second goal of the game to pull the Continentals to within 4-2. Aubrey Coon '16 picked up her team-leading sixth assist of the season on the goal, which was the 22nd of Rosencrans' 23-game career. She already ranks sixth on Hamilton's career list.

Annika Nygren closed out the scoring with 10:58 left to play. Andersen registered her third point of the game on the play.

Victoria Trentini '15 made a season-best 12 saves for Hamilton, which was outshot by a 21-5 margin. Emily Horwitz needed to make just one save.

Hamilton closes out the non-conference portion of its schedule on Wednesday, Oct. 8, hosting SUNY Oneonta at 5:30 p.m. The Lord Jeffs host Colby in a NESCAC game on Saturday.