Men's rower competes in African Championships
---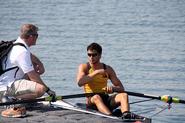 Hamilton College's Andre Matias '11 (Luanda, Angola/Blair Academy [N.J.]) finished second in the first heat of the lightweight men's single at the seventh African Rowing Championships on Lake Tunis in Tunisia on July 1.
Matias finished the 2,000-meter course with a time of 8 minutes, 32.43 seconds. His performance qualifies him for the "A" finals. The top two places in each heat advance directly to the "A" final. An Algerian sculler took first place in Matias' heat with a time of 8:14.71. A Moroccan sculler was third in 9.30.1.
Egypt and Tunisia advanced directly out of the second heat. A Repechage -- or second chance race -- was held later Thursday to determine the final two places in the "A" final, which will be held on Saturday, July 3.
Racing conditions were warm with temperatures in the 80s and a quartering headwind of 5-to-10 miles per hour. There was a slight chop on the water.