If you know Roz Chast's cartoons, you know Roz Chast.
You know she's funny. And perceptive. And prone to outbursts of delicious quirk. You also know she's every inch the Big Apple native, her New Yorker bona fides evident in her New Yorker cartoons — the streets, the subways, the apartments crammed with odd ducks and overstuffed couches. You know she doesn't shy from the weirdness or kerfuffle of everyday life.
What you might not know from her cartoons: Chast's two years at Kirkland College in the early 1970s were a formative blur that she considers an important transition toward her life as an artist. It was there, she says, that she started to figure herself out.
"I was young chronologically and also in every other way. I was 16 and pretty ignorant about everything," says Chast, who arrived on College Hill in 1971 and left in 1973. Coming from an academically rigid Brooklyn high school ("like, the torture of taking trigonometry!") and overprotective parents, she found in Kirkland's independent vibe the freedom to make her own choices.
"You know, some of those choices may have been completely ridiculous — but at least, for the first time, I was making my own choices for everything. For friends. For what I did in my spare time — which was nothing to brag about," she recalls. "I'm glad there was no social media in those days. I was kept on such a short leash when I lived at home, and Kirkland was just, like, there was no leash."
In retrospect, "It was kind of maybe what I needed: just a little time to run around and be a nut, you know. Which is pretty much what I did."
Chast is on the phone from her home in Ridgefield, Conn., where she lives with two birds — an African grey and a caique — and one husband, humor writer Bill Franzen. It's early May, just a few weeks before she's due to receive an honorary degree at Hamilton's commencement, and she gamely fields a wide range of questions.
Some she can't answer. (Has she ever grown up? "Ahhhh, I don't know. I don't know. That's an interesting question. I don't know. I'm definitely an old crone and getting older by the minute. And I don't know, I don't know.") Some she won't. (Who's funnier, Chast or Franzen? "Sidestepping," she replies.) But beyond those, she's forthcoming and chatty, discussing her short stint in Clinton, her long career in cartooning, her familiarity with New York interiors, and her considered opinion on rubber cement (more on that later).
As a teenager, Chast wanted to go to art school. Her parents wanted her to get a bachelor's degree. Kirkland was the compromise. Living in Major Residence Hall her first year and Carnegie her second, she threw herself into art, making photo silkscreens, etchings, lithographs, drawings. Among her many art classes was printmaking with Professor of Art Bruce Muirhead, then a freshly arrived faculty member from Middlebury College and a graduate of the Rhode Island School of Design.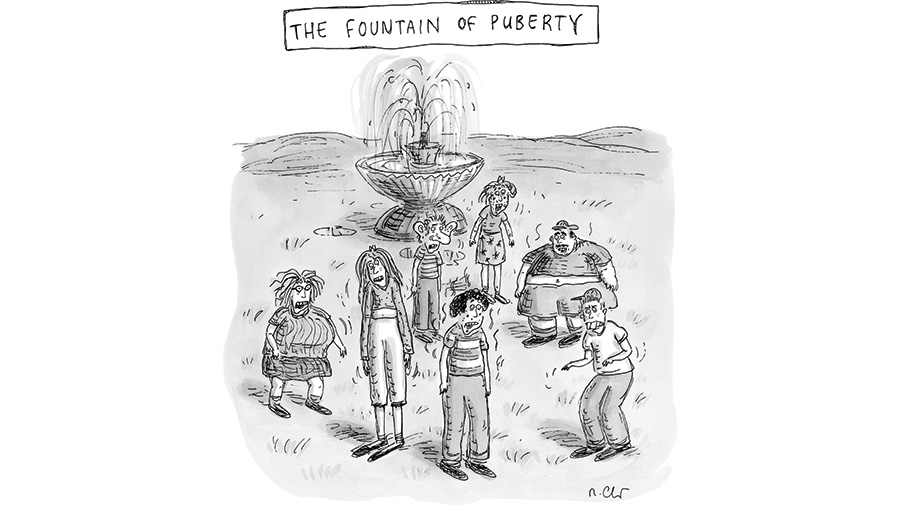 "I remember that Roz had a strong drawing sense," Muirhead says, "and good sense of line and an expressive use of line." All of which he sees now in her cartoons — "the way she uses line to express posture movement, express a glance, a look. And also patterning and design."
Chast "was part of a group of young women who were adventuresome," he says, many of them from New York City. "But they didn't want to do the Barnard thing, you know. They wanted to do something new, and Kirkland had that appeal to them. They were a very independent group, and I remember Roz was, too. Very determined about what they wanted to do. And talented."
Observing both her gifts and her drive, he mentioned RISD to her — and off she went for four years, graduating in 1977 with a degree in painting. A year later, she made her debut in The New Yorker with "Little Things," a whimsical collection of made-up doohickeys that remains a favorite of her own cartoons — "always the first one I did, and the last one I did." At the time of the interview, the last one was "Garden Trolls," a portrait of three nasty little men in pointy hats. "Your garden is crap," says one. "Zinnias are stupid," says the second. "The world is falling apart, and YOU'RE GARDENING?!?," asks the third, his words squiggling loudly with sarcasm.
The bulk of Chast's work displays that same, fidgety brilliance. Eyes goggle. Hair spazzes. People squirm with mundane frets and frustrations. In "The Fountain of Puberty," we see a freak show of stinky adolescents. In "Pigeon Little," the titular bird portends doom until it waddles across a bagel on the sidewalk. ("The sky is falling, the sky is – oh, look!"). In "Listenin' In," a woman overhears a phone conversation about a "floating kidney" — portrayed as a whistling, smiling, fedora-wearing blob.
Yes, she actually overheard the kidney chit-chat. "I heard part of it. I heard somebody talking about a dislodged kidney, and I was just like, Whaaaaat? I was on Metro North, which is the train I take into the city, and I often hear just insane conversations." When that happens, "I jot it down. I don't draw it out, but I jot it down."

Over the years, Chast's work has followed her course through city and suburb, through raising children and caring for elders. In 2014, she published Can't We Talk About Something More Pleasant?, her deeply moving book about the decline and deaths of her parents. She followed that with 2017's Going into Town, a mash note to New York City that she wrote after one of her kids — both now grown, one in the city, the other in Portland, Maine — asked her the meaning of the word "block." (He did? "I swear! I swear on my children's lives that he did ask me.")
"It's so corny, but I really do love New York very, very much." As an artist, she says, "You have your image bank, sort of — your internal image bank." Hers is filled with the terrain and tchotchkes of New York City. "If I drew an interior, I'd have a thousand lamps," she says. "I'd have a thousand couches and end tables and knick-knacks — and, you know, the ash tray that your weird aunt brought back from Spain in 1962 and the weird framed pictures of you in a horrible swimsuit when you went to Miami Beach."
(Nature, on the other hand, "I don't understand." Back in her Kirkland days, "I remember seeing a barn. I was on a bike ride, and I was just like, 'Oh my God! It's just like a picture of a barn!'")
Some might say Chast portrays humanity at its most endearingly neurotic, but not Chast. If the characters peopling her world are wobbly with anxiety over life and death, well, shouldn't we all be?
"I don't see it as neurotic," she says, "and it's sort of puzzling to me when somebody describes this as neurotic. Because, I think, 'Oh, so you're completely fine that you don't even know why you're here! That suddenly you're here and by the time you're 4 or 5 years old, you know that you're gonna die! And it could happen at any time! And you're completely fine with that! That, to me, that's absolute — that's INSANITY." The caps are loud and clear. "So I don't feel like these things are neurotic. I think they're a reasonable response to a completely unreasonable situation."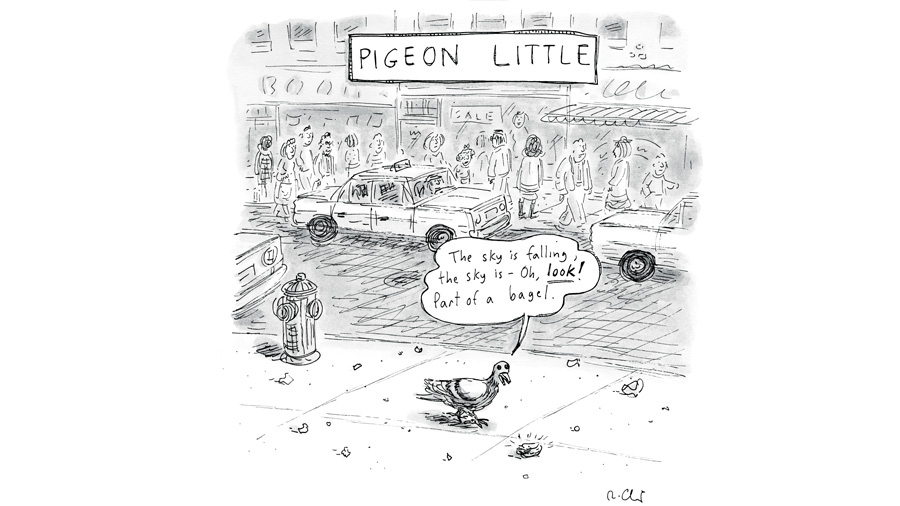 Asked what she's learned from her years as a cartoonist, Chast hmmms and ummms for a few moments before answering. Then it hits her: Lesson Number One. "Don't say 'yes' right away to things. Somebody offers you something that sounds really great, say that you'll think about it for a minute." She hmmmmms again, then hits on Lesson Number Two. "Oh! ... Rubber cement is a false friend."
Wait. What? "It's true. It's like, when you discover rubber cement, you just can't believe nobody told you how great it was, and then about two years later, all your drawings have all these brown stains on them!"
Chast speaks from experience. She's been drawing since age 2 or 3, after all, and while all kids start then, most kids stop later on. "I just kinda kept going with it, I guess."
She was never the class clown; she didn't get picked for teams; she wasn't the popular kid. "I wasn't the prettiest girl. I was socially — forget it!"
So she drew. In class, she doodled. "Art was all I ever liked to do. You know, I got good grades in school, but only because if I didn't, there was hell to pay. … I can remember, in fact, sitting in class and feeling, this is just torment. If I didn't draw while I was listening, it was just like being in solitary confinement."
These days, whenever someone asks for advice, "I say, 'If you can do ANYTHING else, you should do that thing.' There's just too much rejection. Most people I know who are cartoonists, they can't do anything else, you know? This is what they do — and that's sort of how I feel. This is what I do. I'm not really equipped to do other things, especially at this point.
"I've done this for four decades now," Chast says. "So I'm stuck."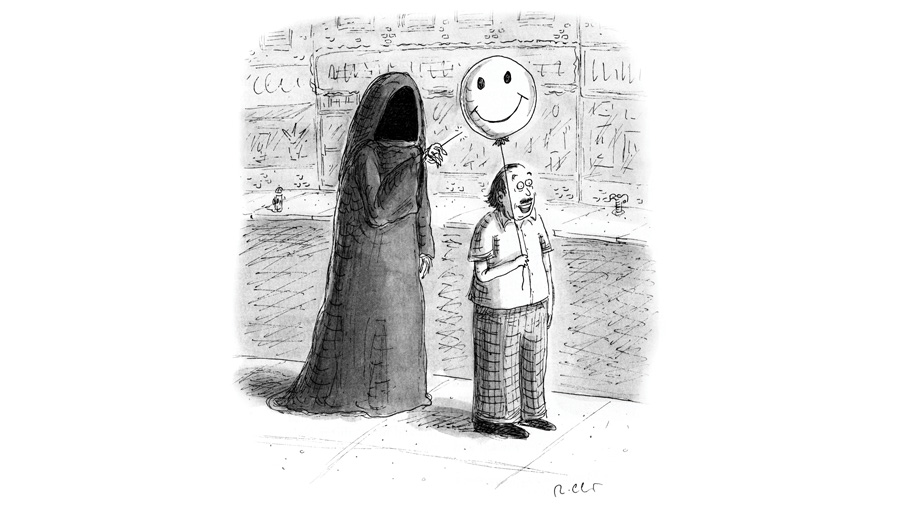 ---
Amy Biancolli '85 (Columbia Journalism '87) is an arts writer and columnist for the Albany Times Union. A former film critic for the Houston Chronicle, she is the author of three books Figuring Shit Out: Love, Laughter, Suicide, and Survival; House of Holy Fools: A Family Portrait in Six Cracked Parts; and Fritz Kreisler: Love's Sorrow, Love's Joy.
Cartoons courtesy of Roz Chast.