Russell Opens Solo Exhibit at Los Angeles Gallery
---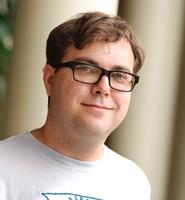 Christopher Russell, visiting assistant professor of art, opened an exhibition titled "Runaway" on Oct. 23 at the Luis De Jesus Los Angeles Gallery. The exhibit is on view through Nov. 23.
Russell employs photography, drawing, writing, bookmaking and digital printmaking to create all-encompassing environments that challenge the traditional divide between these practices and expand the very idea of a book. In "Runaway," he continues his explorations of the darker side of the human psyche, using photographs as a drawing surface and negotiating Romanticism within the post-modern frame of mechanical reproduction.
According to the gallery's website, "The exhibition includes several large-scale, multiple-panel photo murals and installations of framed photographs onto whose surface the artist has scratched, or 'etched,' intricate drawings and patterns. The process involves using a sharp stylus to remove the top image-layer of the print, revealing the soft white paper pulp underneath. In some works Russell also slashes the surface and employs metallic spray paint.
"In addition, among the centerpieces of the show will be the hand-bound tome of Runaway, whose pages measure 18 x 24 inches. This unique, one-of-a-kind book combines 30 original images, hand-illustrated and scripted by the artist. In conjunction with the exhibition, the Gallery will publish a 72-page catalog of this work, including complete text and illustrations, with an essay by Mathew Timmons."