Sacerdote Great Names Series to Host Nobel Peace Prize Recipients
---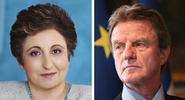 Two recipients of the Nobel Peace Prize will participate in a panel at Hamilton College as part of the Sacerdote Great Names Series on Wednesday, April 24, at 7:30 p.m., in the Margaret Bundy Scott Field House.
The event coincides with the 100th anniversary of Hamilton's own Nobel Peace Prize winner, 1864 graduate and Clinton native Elihu Root, who won the 1912 award.
April's panel will include Iranian lawyer Shirin Ebadi, who won the Nobel Prize in 2003, and Bernard Kouchner, the co-founder and former president of Médecins Sans Frontières (Doctors Without Borders), who received the award in 1999. A third Nobel Peace Prize recipient is being considered for the panel. The panel will be moderated by Edward "Ned" Walker '62, the Christian A. Johnson Distinguished Professor of Global Political Theory at Hamilton and former U.S. Ambassador to Israel, the Arab Republic of Egypt and the United Arab Emirates.
The Nobel laureates will each speak for 10 to 15 minutes about prospects for world peace and then respond to questions. The lecture and panel are free and open to the public. Additional information about shuttles and parking will be announced in April.
The panel will bring to seven the number of former Nobel Peace Prize winners who have spoken at Hamilton as part of the Sacerdote Series, which hosted its first speaker, General Colin Powell, in 1996. April's event marks the first time the Sacerdote Series has hosted a panel, although political strategists James Carville and Mary Matalin appeared together in 1996. Previous events have included presentations by Elie Wiesel, Margaret Thatcher, Desmond Tutu, Jimmy Carter, Bill Cosby, Bill Clinton, Jon Stewart and Condoleezza Rice.
Shirin Ebadi
An Iranian lawyer and human rights activist, Shirin Ebadi was awarded the Nobel Peace Prize in 2003 for her significant and pioneering efforts for democracy and human rights, especially the rights of women and children. She is the first Iranian and the first Muslim woman to receive the prize.
Ebadi is well known by the general public in her country for the legal defense of victims of the conservative faction's attack on freedom of speech and political freedom.
With Iranian-American co-author Azadeh Moaveni, Ebadi is the author of the memoirs Iran Awakening: One Woman's Journey to Reclaim Her Life and Country and Iran Awakening: A Memoir of Revolution and Hope. Her latest, The Golden Cage: Three Brothers, Three Choices, One Destiny, was published in 2011.
Ebadi has also written a number of academic books and articles focused on human rights, including The Rights of the Child: A Study of Legal Aspects of Children's Rights in Iran, published with support from UNICEF, and History and Documentation of Human Rights in Iran. She is the founder and leader of the Association for Support of Children's Rights in Iran.
Ebadi argues for a new interpretation of Islamic law that is in harmony with vital human rights such as democracy, equality before the law, religious freedom and freedom of speech. She also advocates for the rights of the Bahá'i religious community, which has long struggled with a variety of problems and prejudices in Iran.
Ebadi earned a law degree from the University of Tehran. From 1975 to 1979 she served as president of the city court of Tehran—one of the first female judges in Iran but was forced to resign in 1979 after the revolution in 1979.
Bernard Kouchner
Bernard Kouchner is a medical doctor by training and is perhaps best known for being the co-founder and former president of Médecins Sans Frontières (Doctors Without Borders). The Nobel Peace Prize-winning humanitarian organization is made up of voluntary medical personnel who contribute their time and expertise to assist in situations of emergency or inadequate medical care in the developing world. Kouchner organized humanitarian operations to Somalia, El Salvador, Lebanon and Vietnam. In addition, he led field operations in Cambodia, Thailand, Uruguay, Peru, Guatemala and Honduras.
The first person to challenge the Red Cross' stance of neutrality and silence in wars and massacres, Kouchner has played an important role in international humanitarian efforts for more than 20 years. As France's minister of health and humanitarian affairs, he convinced the U.N. to accept "the right to interfere" resolution and after devastating civil wars in the Balkans, served as special representative to U.N. Secretary General Kofi Annan in Kosovo. Kouchner continues to promote universal access to medical care and to take part in international efforts in the fight against AIDS.
Kouchner has been influential in the French political scene, holding a number of ministerial positions in different French administrations for more than 18 years. He served until 2010 as France's minister of health and before that as minister of state for humanitarian action and minister of state for social integration. He was also professor of public health at the Health and Development Department of the Conservatoire National des Arts et Métiers (CNAM). He has been the Foreign Minister of France for the last four years.
Kouchner is the author of several books and co-founder of the news magazines L'Evenement and Actuel. He is the recipient of several human rights awards, including the Dag Hammarskjold Prize and the Prix Europa.
Hamilton alumnus Elihu Root was named the winner of the 1912 Nobel Peace Prize, which was awarded belatedly in 1913. Root served as President William McKinley's Secretary of War and then Secretary of State, and was for decades a leading figure in American public life. According to his Nobel biography, Root felt that international arbitration "represented mankind's best chance to achieve world peace...but he also believed that it would take much time, wisdom, patience, and toil to implement it effectively."