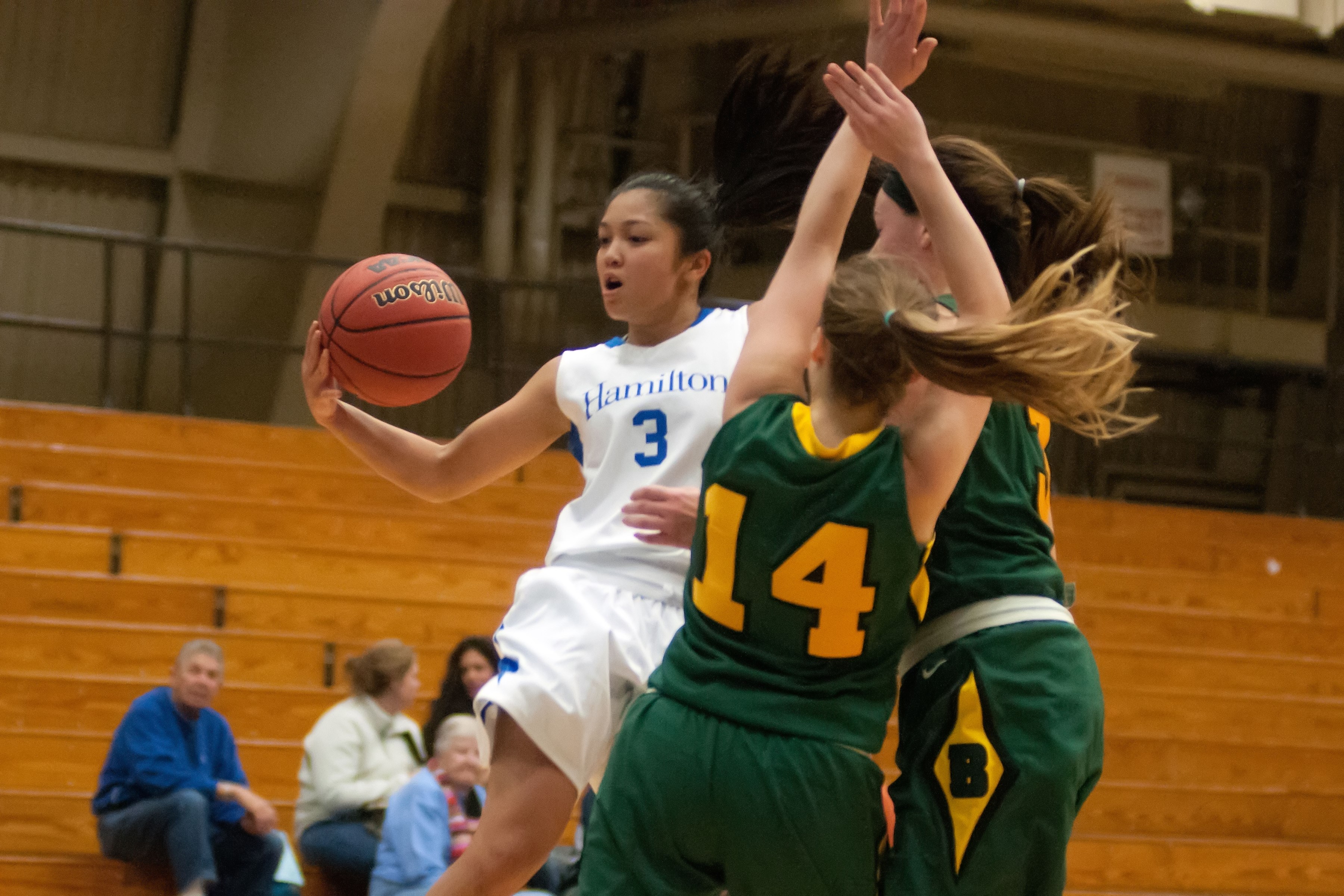 Hamilton College's Theresa Salud '17 made a driving layup with 1.3 seconds left and lifted the Continentals to a 65-63 non-conference win against the University of Rochester Yellowjackets at Hamilton's Margaret Bundy Scott Field House on Tuesday night.

Box Score

Two free throws by Rochester's Alexandra Leslie '18 tied the score for the fifth time in the second half at 63-63 with 1:01 left. The Continentals missed from close range on their next possession but the Yellowjackets misfired on a 3-point attempt with 18 seconds to go. Hamilton played for the last shot and the ball ended up in Salud's hands. She drove from the top of the key down the lane and laid the ball over the front of the rim and in for her second basket of the night. She finished with five points.

Rochester tried to get off one last shot but 6-foot, 4-inch Rylie Mainville '18 tipped the inbounds pass and the ball landed in the backcourt.

The Continentals (8-4 overall) defeated the Yellowjackets for the first time in eight all-time meetings. Hamilton shot 55.6 percent from 3-point range and tied a season-high with 10 field goals from beyond the arc.

Sam Graber '16 posted her seventh double-double in 12 games for the Continentals with 22 points and 12 rebounds before she fouled out with 61 seconds to go. Graber leads the NESCAC and is 24th in Division III in scoring with 19.9 points per game.

Lauren Getman '18 dropped in a season-high 15 points for Hamilton. Caroline Barrett '17 added 10 points off the bench and Samantha Srinivasan '18 chipped in nine points and a season-best five assists.

Leslie paced Rochester (8-3) with 20 points, six boards and three steals. Kelsey Hurley '16 and Kayla Kibling '16 scored 12 points apiece, Blair Landolfi '15 had eight and Tylar Guerrieri '16 grabbed six rebounds. The Yellowjackets lost for the third time in their last four games.

Graber drained a 3-pointer on the Continentals opening possession and Hamilton stayed in front the entire first half. The Continentals led by as many as nine points on four occasions during the opening 20 minutes. A jumper by Barrett with 4 seconds remaining gave Hamilton a 32-24 cushion at the break. Rochester shot just 29.4 percent in the first half.

A basket by Getman gave the Continentals their largest lead of the night at 34-24. The Yellowjackets recovered with a 7-1 spurt capped by Hurley's layup that made it 35-31. Back-to-back trifectas by Getman put Hamilton up by 10 again at 41-31 with 15:32 left.

Rochester controlled the next eight minutes as it turned that 10-point deficit into an eight-point lead with a 23-5 run. A free throw by Hurley gave the Yellowjackets their first lead of the night at 47-46 with 10:25 remaining. Kibling converted a three-point play and Guerrieri finished the run with consecutive baskets for a 54-46 advantage with 7:53 to go.

After the teams traded one basket apiece, the Continentals stormed back into the lead with 11 straight points. Srinivasan went 1-for-2 at the line and Getman and Salud canned back-to-back 3-pointers. Graber capped the spurt with a pair of free throws and then a layup that made it 59-56 with 3:54 left.

Leslie made the back end of a two-shot free throw, Graber scored from in close and Guerrieri completed a three-point play that pulled Rochester within 61-60 with 3:00 remaining. Leslie went 1-for-2 at the line again and Barrett put Hamilton back up by two at 63-61 with a pair of free throws with 1:20 to go. The Yellowjackets shot 52 percent from the floor in the second half.

The Continentals open their NESCAC schedule at nationally ranked No. 3 Amherst College on Friday, Jan. 9. Rochester, which received votes in this week's Top 25 coaches poll, hosts Emory University on Saturday, Jan. 10.