Salzman '13 Combines Science, Art with Galactic Visual Accompaniment
---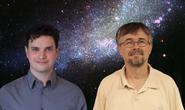 Ben Salzman '13 has always been fascinated with science, space exploration and music, but upon entering Hamilton, his chosen academic path gravitated toward the areas of music and art. He has since discovered a unique method of combining art and science in working with Leonard C. Ferguson Professor of Music Sam Pellman to create visual accompaniments for musical compositions.

Salzman has a strong background in both photography and videography, and has produced commercial video work for a consulting company and online magazines. He worked with Pellman last fall to create 3D animations of the Ares Vallis region of the planet Mars and has spent the summer creating 3D animations of galaxies to accompany some of Pellman's recent musical movements with an Emerson Summer Research Grant.

According to Salzman, "the night sky has been a muse to visual artists and musicians throughout the centuries … technology both in science and in art has given us knowledge and opportunities that open a new world of expression." The focus of Salzman's summer research has been the creation of 3D imagery using photographs taken by the Hubble Space Telescope, which he believes allows the exploration of space to move into the realm of art.

Salzman and Pellman have worked together to explore music and visual aesthetics through the three principal galaxy types – spiral, peculiar and elliptical. These visuals will be set to a four movement piece composed by Pellman in an effort "to portray the range of emotions that one feels when viewing these galactic images … [and to] elicit the sense of mystery of what is yet unknown."

In order to create his visual imagery, Salzman made use of a subset of Max/MSP called Vizzie, a real-time data handling software program, which was recently introduced at the Institut de Recherche et Coordination Acoustique/Musique Conference for music technology and sound in Paris.
Because this software suite is state of the art, Salzman's creation of visual accompaniments includes a large software research component. He has also created original visual footage to accompany the compositions using Final Cut, Motion, and Adobe Photoshop.

Salzman finished his visual renditions by using an open source program called "Blender" to create original 3D animations of the galaxies that he will manipulate in real-time during the performance. By integrating Max/MSP Vizzie, he has found a way to allow the musical compositions' visual accompaniment to be "performed" live, much in the same way the music will be performed.

Pellman and Salzman will perform their composition and visual accompaniment at the Wellin Auditorium on Nov. 11. The two will also give a similar performance on Sept. 15 at the Kyma International Sound Symposium in St. Cloud, Minn. Salzman will continue his research on Max/MSP and Kyma over the coming academic year with the help of Pellman, and he hopes to make use of the software in his senior thesis.
Salzman is a graduate of Clinton High School (N.Y.)