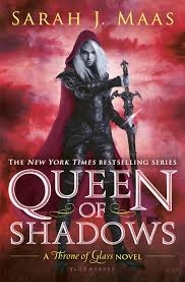 Queen of Shadows, the fourth book in the Throne of Glass series by Sarah Maas '08, is being released on Tuesday, Sept. 1. Maas was a creative writing major at Hamilton.
Maas is the author of Throne of Glass, Crown of Midnight and Heir of Fire and the series prequel The Assassins' Blade as well as the New York Times bestselling A Court of Thorns and Roses. She wrote the first incarnation of the Throne of Glass series when she was 16-years-old and it has now sold in 23 languages.
A description of Queen of Shadows from the publisher Bloomsbury USA:
"Everyone Celaena Sardothien loves has been taken from her. But she's at last returned to the empire-for vengeance, to rescue her once-glorious kingdom, and to confront the shadows of her past...
"She has embraced her identity as Aelin Galathynius, Queen of Terrasen. But before she can reclaim her throne, she must fight.
"She will fight for her cousin, a warrior prepared to die just to see her again. She will fight for her friend, a young man trapped in an unspeakable prison. And she will fight for her people, enslaved to a brutal king and awaiting their lost queen's triumphant return.
"Celaena's epic journey has captured the hearts and imaginations of millions across the globe. This fourth volume will hold readers rapt as Celaena's story builds to a passionate, agonizing crescendo that might just shatter her world."
Maas' other books in the series have received glowing reviews.
Throne of Glass was called "A must-read for lovers of epic fantasy and fairy tales" by USA Today. In a review of Heir of Fire, Kirkus Reviews wrote "Tension snowballs into devastating twists and an absolutely riveting ending… Will leave readers ravenous for more."
"Crown of Midnight series fans will be satisfied not only by the intricate plot, dishy romance, and rich world building but they will be thrilled by the prospect of deepening adventures in the next volume," according to Booklist.