Scenes from Orestes 2.0
---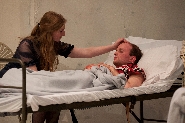 The spring theater production of Orestes 2.0 by Charles Mee debuted on April 12 in Minor Theater. Directed by Professor of Theater Craig Latrell and featuring a cast of 14 Hamilton students, the production is a postmodern version of Euripides' classical tragedy.

Performances continue on Friday and Saturday, April 13 and 14, at 8 p.m., Saturday, April 14, at 2 p.m., and Wednesday, April 18 through Saturday, April 21, at 8 p.m. in Minor Theater.
Tickets for the performance are $5 for the general public and $3 for students. Seating is limited and reservations are strongly encouraged. For more information or tickets call the Theatre Department office at 859-4057. This performance contains language or situations that are not appropriate for young children.