Schnidman '14 Explores Virtual Worlds in Search of New Economic Markets
---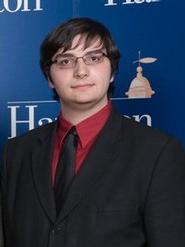 Max Schnidman '14 received an Emerson Grant this summer to research virtual marketplaces. Schnidman first became interested in the idea of online markets when he came across the concept in a New York Times article about the video game Diablo III last August. Diablo III, which had recently been released by Blizzard Entertainment, broke video game sales records by selling 3.5 million copies in only 24 hours. While most players flocked to the game due to what video game reviewer IGN described as its "enjoyable unpredictability," Schnidman had other motives.
According to the Times article, Diablo III would incorporate a virtual "auction house" where players could conduct exchanges between real dollars and in-game currency known as gold. Diablo III's auction house is the first- ever sanctioned online marketplace where players can engage in real currency exchanges, and Schnidman believes that this development has potential implications for economic and social policy.
While the concept of virtual online marketplaces in video games is not entirely new, past video game virtual marketplaces have had major flaws that inhibited their economic usefulness. Previous online marketplaces have allowed players to purchase in-game items with real currency but not sell them, a process not conducive to economic models that require both supply and demand sides for equations. The only two-way markets in existence before the release of Diablo III were black markets which violate the terms of service buyers agree to when they install a video game.
According to Schnidman, video game makers are adamant about enforcing policies against these black markets, and game makers "employ various programs to find and ban people in black markets… they often close thousands of accounts [for sales violations] in waves every few months." As a result of their illegality, it is difficult to observe virtual black markets from an economic standpoint.
Schnidman is not alone in his belief that these emerging virtual markets hold a great potential for research. Research on video game virtual markets began to appear in 2001; from 2007 to 2009 there was a significant spike in research that focused primarily on Second Life, a virtual reality video game that allowed for small scale virtual market trading. Since then, such research has begun to decline, but Schnidman sees new potential in the form of Diablo III's large auction house virtual marketplace.
Schnidman's primary question is whether or not virtual markets can provide a stable and adequate source of income. "Gold farmers," or groups of players who earn as much in-game gold as possible to later sell in virtual black markets, are popular in video games that do not allow in-game currency sales.
In China, gold farms have proved so lucrative that some players rely on video games as their primary source of income; however, this trend in gold farming has also led to human rights violations whereby corrupt Chinese prison officials have allegedly lined their pockets by forcing prisoners to gold farm for long periods of time without food or sleep. Schnidman wonders if such gold farming will become more or less prevalent now that it does not violate Diablo III's terms of agreement, and if so, whether or not there will be potential for players to earn an income by engaging in legal market sales.
Working under Professor of Economics Erol Balkan, Schnidman will track the exchange rate between real dollars and in-game currency for a period of months in order to determine how much real currency Diablo III's auction house can generate. He will then create supply and demand models and attempt to compare the virtual market to its real world equivalents. Schnidman hopes to eventually construct policies to govern virtual markets in order to minimize legal abuses and maximize social utility, a fitting goal considering his dual concentration in public policy and philosophy.
He is a discussion leader at the Alexander Hamilton Institute, the treasurer of the debate team, the co-founder of the eSports club and a member of the Levitt Leadership Institute, the Fencing Club and the Student Interests Committee.

Max Schnidman is a graduate of Chaminade High School (N.Y.)