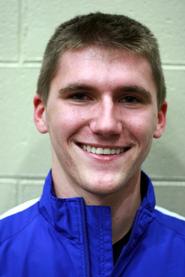 The Hamilton College men's track & field team placed second at RIT's 14-team Tiger Invitational. On the women's side, the Continentals tied for 14th place in the team standings.

Men's results | Women's results

In the women's meet, Hanna Jerome '18 recorded Hamilton's top performance, placing third in the 1,000-meter run with a time of 3:11.61.

Joe Jensen '15 won a pair of races and broke his own school record in the 60-meter dash. He lowered his six-week-old record twice, running a 7.07 in the preliminaries and a 7.03 in the final. He also took first place in the 200-meter dash in 22.46 seconds. Jensen was runner-up in the 400-meter dash in 50.10. He qualified for the Eastern College Athletic Conference Division III Indoor Championships in all three events.

Henry Whipple '18 took second in the 5,000-meter run, finishing in 15:54.23. The Continentals were second in the 1,600-meter relay, clocking a 3:32.53.

In the 800-meter run, Grant Whitney '17 was third in 2:02.54. Peter DeWeirdt '18 placed fourth in the mile run with a time of 4:34.82.

Four Hamilton athletes recorded fifth-place finishes. Christian Belardi '18 posted a time of 8.99 seconds in the 60-meter hurdles, but qualified for the finals in 8.81 seconds. Dylan Berardelli '15 threw the 35-pound weight throw a personal-best 14.83 meters (48 feet, 8 inches), Preston DeLaurentis '18 recorded a mark of 12.93 meters (42 feet, 5.25 inches) in the triple jump and Harrison Sullivan '16 finished the 3,000-meter run in 9:00.14.

Leonard Kilekwang '16 and David Freeman '16 rounded out Hamilton's scorers. Kilekwang cleared 12.92 meters (42 feet, 4.75 inches) in the triple jump, which was good for sixth place. Freeman was seventh in the mile with a time of 4:38.22.

The Continentals compete at SUNY Brockport's Golden Eagle Invitational on Saturday, Jan. 24.