Screening of Film Joe Williams: A Portrait in Song at Kirkland Town Library
---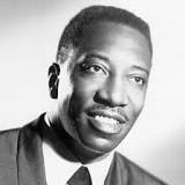 The documentary film Joe Williams: A Portrait in Song, will be screened at the Kirkland Town Library, on Sunday, Oct. 6, at 2 p.m. Monk Rowe, director of the Hamilton College Jazz Archive, will host the event and provide anecdotes about the creation of the film as well as live music relevant to Williams' signature song, "Every Day I Have the Blues." The screening of this rarely shown film is part of the America's Music Film Series and is free and open to the public.

Joe Williams was one of the great voices of the 20th century. Originally a jazz and blues singer from Chicago, he became nationally known for his recording of "Every Day I Have the Blues" with the Count Basie Orchestra in 1955. Williams went on to international fame with many recordings, television appearances, and a rich and varied performing career that continued undiminished until his death in 1999 at the age of 80. He received an honorary degree from Hamilton College in 1988.

Though well represented on recordings and television, there was never a documentary that captured the breadth and scope of his music and his generous, soulful personality, until noted filmmaker Burrill Crohn captured him in full swing with the Count Basie Orchestra in 1996 at a concert at Hamilton College. The film was an initiative of Hamilton's Fillius Jazz Archive to commemorate Joe's unique relationship with the college. Combining concert footage with interviews and archival film clips, the resulting documentary, Joe Williams: A Portrait in Song, captures both the singer and the man at the height of his powers, reflecting on his long life in the music business and beyond.

The Kirkland Town Library (KTL) and Hamilton College's Burke Library were joint recipients of a $2500 National Endowment of the Humanities (NEH) grant to fund the America's Music Film Series, a six-week program series of documentary film screenings and scholar-led discussions of 20th century American popular music. KTL and Burke Library are among 50 sites nationwide selected to host this program series.